Airport violence unveils odious purpose of radicals
Updated: 2019-08-16 07:08
(HK Edition)
<!–enpproperty 2019-08-16 07:08:09.0
Airport violence unveils odious purpose of radicals11022442Comment HK2@hk/enpproperty–>
Grenville Cross says if Hong Kong continues to suffer economically from the unrest, the real losers will be those who currently wage war on our society
'Whom the gods would destroy", said Prometheus, "they first make mad".
When activists occupied the airport, they claimed they were protesting about police brutality. However, their real intentions soon became clear. Apart from disrupting flights and intimidating passengers, including those who were sick, they were on the lookout for some more violence of their own.
Not content with having incinerated a police officer with a molotov cocktail in Sham Shui Po on Sunday, this time they brutalized two mainland visitors, one a journalist. They knocked one man unconscious, and falsely imprisoned and assaulted the other. When an onlooker, Richard Scotford, tried to protect one of the victims, saying he could not "walk away from a man being beaten to a pulp", he was himself then roughed up for his trouble.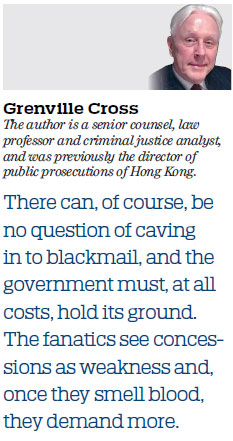 Once an ambulance arrived to take the first victim to hospital, the mob attacked the police officers who were trying to help him out, beat the victim as he lay prone on the stretcher, and used baggage carts to try to block the vehicle from departing. Reverting fully to type, they knocked an officer to the ground, and then smashed the windows of the accompanying police vehicles.
Although the hapless legislator, Kwok Ka-ki, appealed to the mob not to "mete out extrajudicial punishment" to the victims, this had no more effect on them than did the pleas of his fellow "pan-democratic" legislators to the rioters not to smash up the Legislative Council building on July 1. Even they must now realize that, although they always seek to ingratiate themselves with the fanatics, they actually have no influence over them, and that they are regarded with contempt. The lesson, quite clearly, is that once the mob has the bit between its teeth, everyone better beware, for it is impervious to reason and decency, let alone dialogue.
This attack on the two mainlanders is, of course, but the latest manifestation of the animosity which many of the fanatics harbor toward people from other parts of the country, with shoppers and tour groups having faced periodic abuse and intimidation. Such actions are invariably associated with those who seek Hong Kong's separation from China, and they must now face condign punishment.
Although, yet again, the world has been able to see the "peaceful protesters" in their true colors, we must not assume that their aggression will now be condemned, as basic humanity requires. After all, the mayhem which has been unleashed is just too valuable for the political agendas of various politicians, both abroad and locally.
We must, for example, expect US Senate Majority Leader Mitch McConnell, who has gone out of his way to egg the activists on in recent days, to turn a blind eye to the airport violence, just as he has done to the gasoline bombing of the police officer and the destruction of the legislature.
As for the legislative councilor Fernando Cheung Chiu-hung, he plumbed new depths, even for him. He sought, apparently with a straight face, to justify the assaults on the two victims by claiming that their assailants were simply effecting what he described as "citizen's arrests". Although, facing condemnation, he later backtracked, he has used the crisis from the outset to promote himself. In a grotesque stab at publicity last month, he positioned himself in black with activists outside the legislature, with a sign reading "Don't shoot our kids". Shortly afterward, however, he criticized the police, who wanted to avoid a bloodbath, for not intercepting the rioters when they smashed into the legislature on July 1, claiming bizarrely that it was all part of a plot to entrap them. When people of this caliber are elected to the legislature, it is hardly surprising if there are reservations in some quarters about accelerating the pace of democratic development in Hong Kong.
Although the UN Human Rights Council has raised questions over the weaponry being used by the police to control the mobs, these are wholly frivolous, and even the US, when it quit last year, denounced it as "a cesspool of political bias". Nobody, therefore, should now expect it to seek an investigation into the men of violence, even though their attacks on police officers, travelers and anybody else who has got in their way, cry out for universal condemnation.
Although the damage caused to the legislature will require over HK$40 million ($5.1 million) to remedy, it is estimated that the aviation industry itself will sustain losses of over HK$600 million ($76.5 million) from flight cancellations over the past few days. On top of this, hotels and tourism will be massively impacted, and many people, including conference organizers, will be giving Hong Kong a wide berth in future. This, of course, will severely damage Hong Kong's economy and cause many people to lose their jobs, which is exactly what some of the fanatics actually want. They hope to cripple Hong Kong, no matter the consequences.
However, some of them are still youthful and, by destroying Hong Kong's future prosperity, they will themselves be the ultimate victims, unless, of course, Germany agrees to give them asylum. If Hong Kong suffers economically in the years ahead, and cannot develop its potential in the Guangdong-Hong Kong-Macao Greater Bay Area, there will inevitably be consequences, including reduced opportunities, less growth and fewer jobs. The real losers in this scenario will, therefore, be the very people who are currently waging war on our society.
There can, of course, be no question of caving in to blackmail, and the government must, at all costs, hold its ground. The fanatics see concessions as weakness and, once they smell blood, they demand more. The ongoing violence has nothing to do with the shelved fugitive offender proposals, and everything to do with attempts to undermine the "one country, two systems" paradigm, and embarrass China.
Under the Basic Law, Hong Kong enjoys its own unique advantages. These must not only now be leveraged upon, but also protected from the depredations of those who wish us harm. It is hopefully not too late.
(HK Edition 08/16/2019 page12)