All the colors of the rainbow
Updated: 2019-08-30 07:38
By Elizabeth Kerr(HK Edition)
<!–enpproperty 2019-08-30 07:38:08.0Elizabeth Kerr
All the colors of the rainbow11022443City Lights2@hk/enpproperty–>
The Hong Kong Lesbian & Gay Film Festival, Asia's longest-running LGBTQ event, celebrates its 30th anniversary this year, and as it has for over a quarter century – often under challenging conditions – the festival will provide a much-needed voice in the city for an underserved community. This year's features, short films, commemorative retrospectives and sunny comedies from Hong Kong, the Chinese mainland, Taiwan, India, Argentina, the UK, the United States, Canada and France among others will explore issues ranging from self-expression and acceptance to environmental disaster and the power of memory.
The festival opens with the groundbreaking Bollywood rom-com How I Felt When I Saw That Girl. Indian superstars Anil Kapoor and his real-life daughter Sonam play lead roles in Shelly Chopra Dhar's film pivoting on the recognizable tale of Sweety – a young woman whose family wants her to get married but who finds true love with another woman, a budding writer. Also screening on the opening night is Maxime Govare and Cdric Le Gallo's The Shiny Shrimps from France, a hilarious gay spin on Sink or Swim, this time about a water polo team trying to qualify for the Gay Games and the homophobic coach who whips them into shape.
The festival closes with rich and resonant explorations of romance both new and old. These include The Daughters of Fire (Albertina Carri), a film about a sexy road trip in which a lesbian couple reunites for an eye-opening journey that exposes them to all manner of contemporary women, and Alessandro Genovesi's My Big Gay Italian Wedding, adapted from the off-Broadway play about a newly engaged gay couple returning to Italy to meet the traditional Catholic family of one of them.

This year's highlights include a Hong Kong Retrospective inspired by the landmark 1991 decision to decriminalize homosexuality – and give filmmakers a subject to explore from a new perspective. While most of the films from the period wallowed in stereotype, a handful stood out for their sensitivity and complexity. The line-up includes Stanley Kwan's insightful documentary Yang and Yin: Gender in Chinese Cinema, Yan Yan Mak's romance Butterfly and A Woman is a Woman (by Maisy Goosy Suen), an early look at transgender life. Elsewhere, Vietnam's Song Lang (directed by Leon Le) elegantly combines cai luong (modern folk opera) and gangster thriller in a story about a debt collector who becomes obsessed with a handsome actor. South Korea's Between the Seasons by Kim Junsik revolves around the story of Hae-soo, trying to restart her life in a new city and finding renewed passion with help from a high school girl who works in her caf.
Other must-sees include Indonesian master Garin Nugroho's poetic Memories of My Body in which Juno reflects on his life in four chapters; LGBTQ favorite Pedro Almodvar's semi-autobiographical Pain and Glory, about a director retracing his artistic path and starring Almodvar regulars Antonio Banderas and Penelope Cruz, and Being Impossible from Venezuela's queer film scene, which follows the Oscar-nominated A Fantastic Woman. Also worth watching are the four short film programs featuring emerging filmmakers to keep an eye on, among them Hong Kong's Hugo Kenzo (Delivery Boy) with his sweet, cheeky story of youthful infatuation, and Joseph Adesunloye from Botswana, whose 2064 infuses environmental sci-fi with sexuality.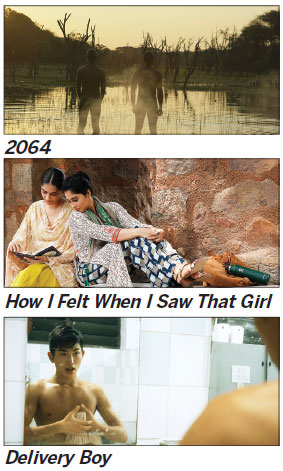 (HK Edition 08/30/2019 page10)