<!–enpproperty 2019-10-11 08:15:06.0
Bard calls11022444Culture HK2@hk/enpproperty–>
Audiences braving unrest in the streets to watch Shakespeare's Globe perform in HK is an affirmation of the city's love of good theater, says Chitralekha Basu.
At a time when several high-profile acts from overseas prefer to give Hong Kong a miss – primarily to protect their own safety and that of their audience – Shakespeare's Globe went ahead with their Globe on Tour program, performing in the city over six nights in late September. The decision probably meant significant monetary loss to the company and their Hong Kong hosts, ABA Productions. It was heartbreaking to see Pericles playing to a house that was half empty on a Friday night, especially since Globe's previous performances in the city have almost always been a sell-out.
Good on the audience who showed up at Hong Kong Academy for Performing Arts' Jockey Club Amphitheatre to watch one of the most well-respected brands in the business of producing Shakespeare's plays in action. Perhaps now more than ever, revisiting the classics of theater helps add clarity to one's understanding of these cynical times. The three plays in the Globe on Tour repertoire, dealing with themes of migration, displacement and xenophobia, serve as lenses to examine the state of things in many parts of the world today, including our own.
A storm at sea wrecks the lives of the protagonists in all three plays – The Comedy of Errors, Twelfth Night and Pericles. Separated from their kith and kin and alone in a foreign land, the central characters in these plays must face or work their way around the adversities that confront them, even as they get a sense of who they are and their place in the wide world in the process. In keeping with the spirit of comedy, all three plays end in family reunions and a happy resolution of crises.
However, human nature can be too complex and unpredictable to conform to the conventions of comedy, as director Brendan O'Hea shows us. In The Comedy of Errors when the long-lost twin brothers – Antipholus of Ephesus and Antipholus of Syracuse – meet each other and their mother, the Abbess, reveals the story of how a shipwreck parted them when they were infants, the former (Andrius Gaucas) pointedly ignores the latter's (Colin Campbell) gesture of a brotherly embrace.
On the other hand, forced displacement is shown to broaden horizons and temper blind faith with rational thinking. At the end of the play, Pericles, prince of Tyre, revises his strong belief in the power of the gods to lift him out of crises when he finds out it was human agency rather than divine intervention that had breathed new life into his wife after she was taken to be dead in childbirth and her body cast away at sea. Campbell plays up the melodrama in the scenes of mourning with a tinge of self-mockery, underscoring the slightly ridiculous side of exaggerated emotion on display.
Willing suspension
The Globe on Tour arm of Shakespeare's Globe follows the tradition of staging plays in much the same way they were performed by itinerant theater companies in Elizabethan and Jacobean times. The shows are a pared-down version of those staged in the spectacular Globe Theatre in London. A portable platform with a two-tier bare wooden backdrop, open on three sides, forms the stage. The cast (four men and four women in the current ensemble) doubles as both musicians and actors. Dressed in a simplified version of the Elizabethan doublet-and-hose, they throw on a gown, or drape a length of fabric over the basic garment to indicate the character they are playing and use next to no props.
Each actor takes on multiple roles, as a result, sometimes playing two roles at once – like Campbell answering as both Antipholus of Syracuse and the officer who had previously arrested him in The Comedy of Errors. This resonates with Shakespeare's use of a similar device in Twelfth Night, when Malvolio, Countess Olivia's dogmatic steward, is proclaimed mad, thrown into a dark chamber and subjected to psychological torture by Feste, the jester.
In one of the many instances of the play's gender-fluid casting, Natasha Magigi appears as both Feste and Malvolio's tormentor – the imaginary, spiteful preacher Sir Topas. She dons a flimsy beard and dark gown to impersonate the fictitious curate, putting a playful spin on the deeply cynical and somewhat sadistic character of Feste. By casting a woman playing a man who is then disguised as another man, director O'Hea reminds the audience that theater is essentially about make-believe.
As Marina (a charmingly mischievous Mogali Masuku), Olivia's maid and one of the masterminds behind the plot to humiliate Malvolio, says to Feste when congratulating him on the Sir-Topas act: "You could have done this without your beard and gown."
By ditching the paraphernalia associated with realistic stage productions, Globe on Tour depends hugely on an audience's willingness to believe in the words they hear. Full marks to Hong Kong's diehard theater fans who risked personal safety to show up and cheer appreciatively at the right moments.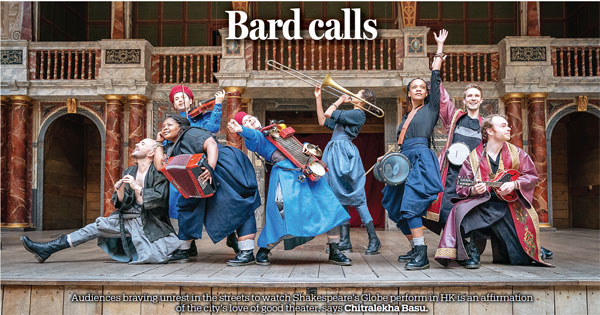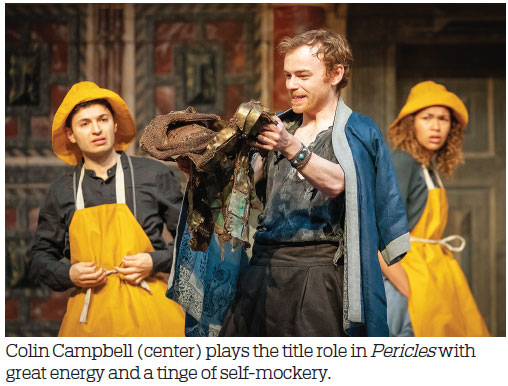 (HK Edition 10/11/2019 page10)