Bay Area tax rebates a draw for HK talents
Updated: 2019-06-28 06:20
By Oswald Chan in Hong Kong(HK Edition)
<!–enpproperty 2019-06-28 06:20:12.0Oswald Chan in Hong Kong
Bay Area tax rebates a draw for HK talents1159930Nation2@hk/enpproperty–>
Hong Kong has picked up the pace of integration with the mainland economy 22 years after its return to China. To facilitate the process of integration, both the central and local governments have announced a slew of preferential policies.
Hong Kong residents working on the mainland will be receiving smaller tax bills after being granted income-tax subsidies as part of efforts to stimulate the inflow of talents to the Guangdong-Hong Kong-Macao Greater Bay Area.
Individual income tax preferential policies, which were recently launched by Guangdong province's department of finance and tax service administration, are aimed at encouraging more Hong Kong people to work and live in the nine provincial cities which, together the Hong Kong and Macao special administrative regions, make up the 11-city Bay Area.

Eligible Hong Kong permanent residents will be granted subsidies when their individual income tax exceeds 15 percent of taxable income.
"For Hong Kong youths planning to work in the Bay Area, paying tax is among their top concerns as Hong Kong is considered having one of the lowest tax regimes in the world," said Andrew Yao Cho-fai, a Hong Kong deputy to the National People's Congress and chairman of Hong Kong Shanghai Alliance Holdings.
The tax incentives, which came into effect in January under a one-year pilot scheme, exempts overseas taxpayers from paying the mainland's individual income tax rate.
"I think the incentives are strong enough to attract talents not only from Hong Kong, but also overseas," Yao said.
He said a livable place is most essential for luring talents, offering a friendly tax environment and good education and medical care.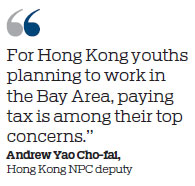 The incentives followed the unveiling of the Bay Area's development blueprint in February that provides a road map for the region with the goal of turning it into an integrated economic and business hub.
High-end talents and professionals, especially those whose skills are in short supply in the Bay Area, could be eligible for the subsidies, according to the Guangdong authorities.
At the same time, members of research institutes, universities and hospitals are also listed as beneficiaries of the incentive policies.
Yao said he had talked to young professionals in the Bay Area, and they are optimistic about the region's development.
Under the preferential policies, remunerations such as wages, royalties and operational profits would be offered to encourage Hong Kong residents and expatriates to contribute to the region's development.
Yao hoped the tax incentives for the Bay Area would inspire other mainland cities to better attract talents and investments worldwide.
The Ministry of Finance said in March special subsidies will be granted to offset the individual income tax difference between Hong Kong and the mainland. The aim is to keep the spread as narrow as possible as Hong Kong's income taxes are normally capped at 17 percent, while those of the mainland are higher.
oswald@chinadailyhk.com
(HK Edition 06/28/2019 page4)