<!–enpproperty 2019-06-28 07:57:34.0
Building strong foundations11022444Culture HK2@hk/enpproperty–>
In this graduation season, Rebecca Lo visits three of HK's leading architecture and design schools to find out how they go about shaping the careers of the architects of the future.
On June 21, the faculty of architecture at the University of Hong Kong (HKU) opened its annual degree show to let the public see what its undergraduate, graduate and doctoral programs are all about.
"There has been limited growth since our landscape architecture and conservation programs started," explains head of HKU's Department of Architecture Eric Schuldenfrei. "This coming academic year, we are adding a Bachelor of Arts and Science to focus on interdisciplinary knowledge and learning. We believe that will be the key to future success. Our first 'Design+' intake of 17 students will be encouraged to take a second major, two minors or a range of electives."
Modeled after programs at MIT Media Lab and Royal College of Art, London, Design+ is informed by a highly interdisciplinary approach. Hence students try to arrive at design solutions largely on their own, with inputs from specialists in different fields, instead of depending on the professor to show them the way.
In the past academic year, HKU was home to 443 architecture students, many of whom chose the university for its strong overseas exchange program. "We bring the world in," Schuldenfrei says. "Many international architects come to teach. Students have opportunities for travel. Undergrads study in our Shanghai center for a semester."
The mood is upbeat in the lead-up to the architecture school's 70th anniversary next year. "Our advantage is how we teach the history of Hong Kong and the region – how it's contextualized," notes Schuldenfrei.
He observes that more women are now studying architecture than men. The majority of HKU graduates get hired as architects in Hong Kong upon getting their degrees and subsequent licensing. "A few will eventually start their own firm and practice design," he says. "Our program is not just about performing well at school – hopefully, it is a life-changing experience that fosters students' intellectual curiosity."
Making a social impact
The Chinese University of Hong Kong's (CUHK) Master of Architecture graduates showcased their theses to the public on May 28, at the Rotunda in Exchange Square, Central. The ceremony included an address by HKSAR's secretary for the environment Wong Kam-sing.
"By the year 2050, the world population is projected to grow to 9.8 billion. Nearly one half of that new population growth will be here in Asia," said Nelson Chen, CUHK's outgoing director of the School of Architecture, during the ceremony's opening address.
"How do we feed that many more people without harming the earth that sustains us? In the next 30 years, over 70 percent of the world's population will be living in cities. How do we design and build more liveable, sustainable cities? I believe it will require open-minded willingness for risk taking, trial and error, and self-critiquing in a disciplined design process to inform creative imagination that is truly inventive and socially impactful," he said.
Such values were amply evident in the award-winning projects. For example, Beryl Wong, a best-thesis project winner, explored the relationship between traditional values and contemporary culture in her design of an open-air structure above a bridge in a Hunan village that incorporates local resources, craftsmanship and techniques. Celia Yeh, another best-thesis project winner, created a performance factory for the blind in a disused space in To Kwa Wan. Carol Wong came up with ways to slow down and relax at Hung Hom station, an uber-busy transportation hub. Nichol Wong explored combining technology with natural materials in an undulating roof structure in Malaysia.
"Our thesis is the last chance to do what we really want to do," says Wong. "My project is more exploration than something that will help me get a job."
Combining work and study
Work hard, play hard is an adage espoused by this year's Savannah College of Art and Design Hong Kong's (SCAD) graduating class. Celebrating commencement with a party at the Ritz-Carlton, Hong Kong on June 8, the new graduates shook off years of hard work as they faced their creative careers ahead with confidence.
With an impressive 99 percent of its alumni employed, pursuing further education or both within 10 months of graduation, SCAD has made a difference to the way creativity is taught. Since it opened its doors in the historic North Kowloon Magistracy building in 2010, it now takes in 700 students across disciplines as varied as interior design, user experience design, and luxury and fashion management every year.
Similar to its campuses in Savannah, Atlanta and Lacoste, France, the Hong Kong school is all about robot proofing students' futures, as Derek Black, SCAD's associate dean of academic services, puts it. Besides inviting industry leaders to give talks, SCAD connects students with companies for sponsored projects, allowing them to work and study at the same time. Further, they have the opportunity to study abroad at sister campuses.
"I've always loved drawing and telling stories," notes Queenie Ng, 2019 valedictorian with a BFA in sequential art and minor in animation. "Growing up in Hong Kong, my parents were really supportive of my art career pursuit and I need to do good to earn that support. I chose SCAD because it seemed like a tight-knit community and I wanted to be part of it. I've gained a lot of experience in the field, and learned a lot from other students."
"I did my undergrad in the US and was blown away by the SCAD campus in Hong Kong," says Vivien So, 2019 Excelsus laureate (a special honor given to the school's best student across disciplines each year) with an MA in luxury fashion management. "There is a real feeling of community here. I stayed up to date by working while studying. I learned about the challenges of dealing with factories, public relations and brand owners."
"I grew up watching TVB dramas in Singapore, and was amazed when I saw the courtrooms at school like the ones I used to see on TV," smiles Pamela Lai, 2019 salutatorian with a BFA in animation. "The school offers good backgrounds for film shoots."
Hong Kong-based Australian interior designer Emma Maclean of EM Bespoke has hired architecture and design graduates from the city's schools previously. "I would hire a SCAD grad," she admits. "They are more practical."
She goes on to add that sometimes schools do not prepare students for the real world. "The restrictions of budget, time and schedule – these important things are not really taught in school. Fresh grads love concept and creation, but 90 percent of them struggle with client relationships and presentations. A good designer needs to be well rounded."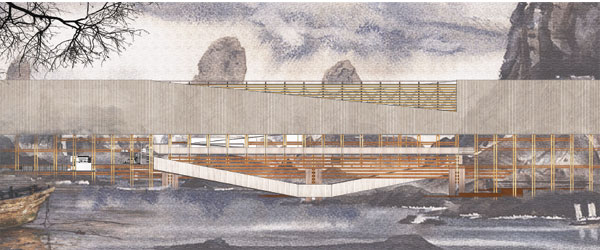 Beryl Wong of the Chinese University of Hong Kong won the best-thesis project award for her design of an open-air structure above a bridge in a Hunan village, using local resources, craftsmanship and techniques.

From left: SCAD's class of 2019 at their graduation ceremony; an exhibition featuring thesis projects by Master of Architecture graduates of the University of Hong Kong.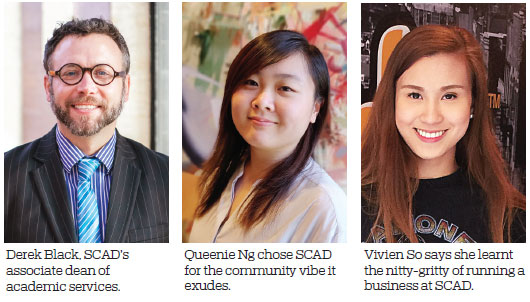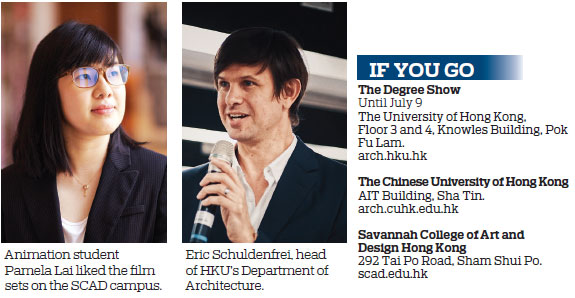 (HK Edition 06/28/2019 page11)