<!–enpproperty 2019-09-06 07:50:03.0Li Meng
Carnival of kiddie favorites11022444Culture HK2@hk/enpproperty–>
International Arts Carnival (IAC) 2019, organized by Hong Kong's Leisure and Cultural Services Department, attracted parents and children with a series of arts and educational programs this summer.
At the annual arts festival, performers from Hong Kong, Iceland, the Netherlands, Spain, Sweden, Vietnam and Canada took part in a range of shows, spanning music, dance, acrobatics and theater. The festival featured more than 80 live performances, feature films, exhibitions and workshops to add color to the summer holidays and promote parent-child bonding.
This was the first time Maggie Leung took her 5-year-old son to IAC. "We really enjoyed watching the shows together," she says. Her son is a fan of action heroes which inspired their choice of shows: The Heart of Robin Hood, by Vesturport of Iceland and The Odyssey of Little Dragon, performed by Hong Kong's own City Contemporary Dance Company (CCDC). The former is an action-packed adaptation of the classic English folk story, while the latter recalls splendid life stories of kung fu star Bruce Lee.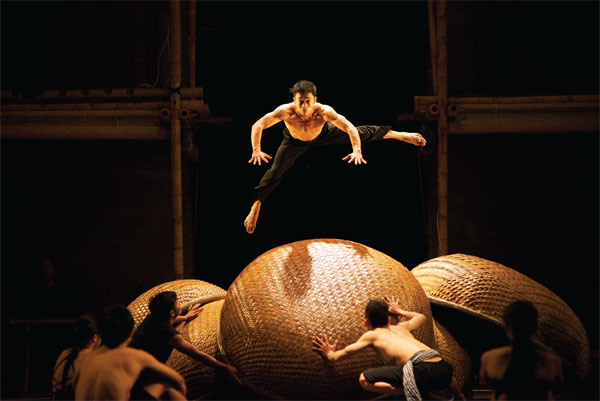 The recently held International Arts Carnival in Hong Kong captured the hearts of its young audiences with shows such as A O Lang Pho by Lune Production from Vietnam. Provided to China Daily
"I watched a bunch of films played by Bruce Lee during my childhood," says Dominic Wong, CCDC assistant artistic director and choreographer of The Odyssey of Little Dragon. He worked with local composer Yin Ng and the Chinese music ensemble SIU2 to create this multimedia theater production, inspired not only by Bruce Lee's legendary prowess in martial arts but also the philosophy informing his craft.
Wong and his partners wanted to "explore the combination of East and West" in Lee's kung fu philosophy and "encourage the youth to overcome challenges" by presenting the ups and downs of Lee's life.
Classical notes
The festival also featured various music programs that surprised audiences by mixing classical music with humor and dramatic comedy. Orquestra de Cambra de l'Emporda, the offbeat music ensemble from Spain, presented a kaleidoscopic fusion of movie theme songs, Baroque pieces and contemporary music under the baton of conductor Jordi Purti. In another Spanish production, Monsieur Croche: The Dreams of Composer Claude Debussy, viewers enjoyed beautiful piano pieces written by the French composer while exploring a dreamland filled with puppets, mysterious dances and large-scale video images.
Margaret Chan, a 10-year-old girl who has been learning to play the piano since she was four, was all agog before the Debussy event. She had been struggling a bit with learning to play Debussy's music and was hoping to be inspired by this award-winning show.
Community and school visits were a major aspect of the festival. Local musicians, theater practitioners and dancers performed a series of diverse and interactive programs for students and the public.
Three local museums – Hong Kong Heritage Museum, Hong Kong Museum of History and Hong Kong Museum of Coastal Defence – also participated in the festival, hosting a number of workshops and storytelling programs for children and their parents. Twenty feature and animation films were on show, with a view to encouraging family members to have conversations with children about love, friendship, confidence and other important issues.
"What the parents care about is not only the quality of programs but also the sharing and communication with the kids after the performances," says Leung. The splendid array of inspirational and enjoyable activities at this year's IAC gave families a chance to enjoy each other's company and create closer and stronger bonds.
(HK Edition 09/06/2019 page9)