<!–enpproperty 2019-05-31 06:49:23.0Maggie Beale
Catch of the summer11022443City Lights2@hk/enpproperty–>
During the summer months, dining venues offer an abundance of fresh fish and seafood. The al fresco Waterfront Bar & Terrace at Harbour Grand Kowloon has a new seafood-sharing menu that promotes the concept of "sharing is caring" with over 40 tantalizing big and small sharing plates.
The selection is inspired by the restaurant's harbor side location, says executive chef Alexandre Buytaert. "Our aim is to capture the pure natural taste of the ingredients and enhance their flavor with special homemade sauces and condiments, blending simplicity with gormandize."
For starters, there is a series of chilled and hot appetizers that includes Ahi tuna tartare with fresh mangoes, avocado and crispy tortilla chips drizzled with a sweet yuzu vinaigrette dressing; shrimp and crab campechana, and jumbo crab cakes with pickle and caper remoulade sauce. Highly recommended are the freshly shucked seasonal oysters as well as oyster Kilpatrick baked with bacon and Worcestershire sauce.

Signature main dishes feature choices such as salmon seared with matelote and blackberry sauce, or succulent jumbo sea scallops served with dry vermouth beurre blanc and a subtle hint of pancetta. Created especially for couples and larger parties, big-sized shared plates offer scrumptious delights like the Ahi tuna Wellington and lobster pizza.
At Bistro on the Mile at the Holiday Inn Golden Mile, a Japanese dinner buffet showcases a variety of favorite Japanese dishes until June 30. Oceanic delights consist of crabmeat salad, miso soup with clam and tofu, jumbo prawn tempura, fried skewers, sashimi, sushi, mini eel rice, grilled squid with teriyaki sauce and grilled salted mackerel.
Each guest will also be presented with a whole abalone marinated with sake and a mushroom salad. Cooked delicacies include shrimps in their shells, blue mussels, Japanese crab leg and green whelk, as well as succulent fresh oysters.
For something a bit more extravagant, try the exclusive five-course caviar menu at Le Comptoir's two-Michelin-starred restaurant criture, which has partnered with Royal Caviar Club to showcase the delicate flavors of caviar in unexpected and exciting new ways. The limited edition caviar menu is available until mid-June.
The menu begins with a pairing of creamy Hokkaido sea urchin and Cristal caviar served with celeriac whipped cream on a crispy buckwheat tart shell and finished with a light beurre blanc sauce. This is followed by a spicy Japanese turnip (kabu) that comes with kabu pure, sweet Ossetra caviar, lime, kabu foam and almond oil.
The third course features a slightly cooked French blue lobster garnished with salmon roe curded in a dashi, French pork sausage and Japanese chives served with mushroom duxelle, slices of kohlrabi and shellfish sauce. On the side, a lobster's claw is presented in a kohlrabi broth with rich buttery-flavored Baerii caviar.
Next comes the barbecued A5 Japanese wagyu striploin complemented by homemade bread, poached eel and a topping of creamy Beluga caviar. The dish is finished with a corn and beef sauce with a drop of coffee on the side.
To finish on a sweet note, the fluffy cauliflower souffl is presented with white chocolate biscuit, steamed Japanese egg yolk, lime mousse, lemon foam and a delicate topping of golden Cristal caviar.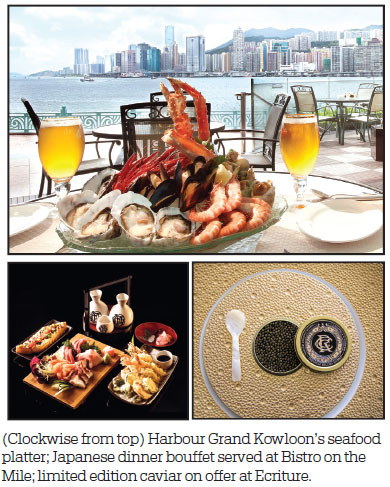 (HK Edition 05/31/2019 page12)