CE: Women now a force to be reckoned with in society
Updated: 2019-07-30 07:31
By Pamela Lin in Hong Kong(HK Edition)
<!–enpproperty 2019-07-30 07:31:31.0Pamela Lin in Hong Kong
CE: Women now a force to be reckoned with in society11023981Hong Kong2@hk/enpproperty–>
Lam vows to create conducive climate to enhance females' role in workforce
Chief Executive Carrie Lam Cheng Yuet-ngor has vowed to continue strengthening and promoting the role of women in the community by increasing opportunities for them, and creating a conducive environment for them to remain in the workforce.
Addressing the inaugural Women Power Forum, themed "Women as Game Changers", in Hong Kong on Monday, Lam noted that since the establishment of the Hong Kong Special Administrative Region 22 years ago, women's participation in the education, private and public sectors has be substantially lifted.
"Women now represent 54 percent of all students enrolled in Hong Kong's universities – a long way from 1921 when the University of Hong Kong admitted its first female student," Lam said.
Even the traditionally male-dominated disciplines have seen a growing number of female students. "Currently, more than 50 percent of our medical students are women," she said.
Besides, more than one-third of Hong Kong's civil servants who have reached the directorate level are women. However, the participation rate of the female labor force in Hong Kong last year was still lower than that of males, and was well below that on the Chinese mainland and in Singapore.
Lam cited high-profile cases since 1997 when Hong Kong returned to the motherland, as the SAR government appointed Elsie Leung Oi-sie as the first female secretary for justice and Rita Fan Hsu Lai-tai as the first female Legislative Council president. In 2006, Margaret Chan Fung Fu-chun became Hong Kong's first female director of health, and later went on to become director-general of the World Health Organization.
As the first female chief executive of the SAR, Lam said the government gives high priority to creating a propitious environment for women who want to join, or remain in the workforce.
Favorable policies include strengthening support for families, ranging from childcare and elderly support services. In her Policy Address in October last year, Lam announced plans to extend maternity leave from 10 weeks to 14 weeks, with an additional four weeks' leave pay to be borne by the government. These measures will be discussed by legislators later this year.
"Preparatory work for the next Policy Address has already begun. I welcome your views and suggestions, particularly regarding what we can do to further promote gender quality," Lam said.
The half-day Women Power Forum was organized by the Hong Kong Federation of Women (HKFW) – a non-profit organization working in association with the United Nations Economic and Social Council.
Pansy Ho Chiu-king, chairperson of WPF and the HKFW, said the forum's goal is to create a platform for sustainable exchanges with women leaders and innovators around the world to "inspire, share experience and work together using women power to advance society, the economy and women themselves".
She stressed it's significant for women to believe in their own potential, otherwise all the education, training and career options would remain to be explored. "Inspiring and empowering women by providing critical psychological groundwork is, therefore, as important as the opportunities offered by society," Ho said.
Founded in 1993, the HKFW is dedicated to promoting women's development, safeguarding their rights and interests, creating opportunities for exchanges between women groups at home and abroad, and enhancing the status of women, she said.
More than 400 guests attended the forum, engaging in a series of panel discussions on arts, culture, business, technology and social innovation. This creates a platform for women to share experiences within their areas and discuss how they could become catalysts for positive changes at work and in their communities.
pamelalin@chinadailyhk.com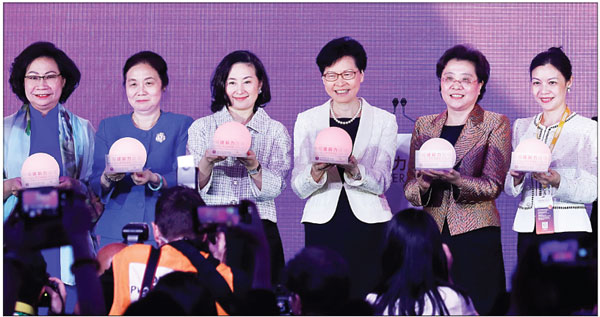 From left: Regina Leung Tong Ching-yee, former solicitor in Hong Kong; Mou Hong, director of Liaison Department of the All-China Women's Federation; Pansy Ho Chiu-king, chairperson of the Hong Kong Federation of Women and chairperson of Women Power Forum; Hong Kong Chief Executive Carrie Lam Cheng Yuet-ngor and Qiu Hong, deputy director of the Liaison Office of the Central People's Government in the Hong Kong Special Administrative Region, attend the opening ceremony of Women Power Forum on Monday. Photos by Roy Liu / China Daily
(HK Edition 07/30/2019 page7)