Clare.AI pioneers banking services powered by AI
Updated: 2019-06-28 07:54
By Pamela Lin in Hong Kong(HK Edition)
<!–enpproperty 2019-06-28 07:54:28.0Pamela Lin in Hong Kong
Clare.AI pioneers banking services powered by AI11022441Business HK2@hk/enpproperty–>
In Hong Kong's vibrant startup ecosystem, women are willing to step out of their comfort zones and perform well – including the fintech industry.
Co-founded by entrepreneur Bianca Ho, who moved from traditional banking to the tech industry, the Hong Kong startup Clare.AI developed an artificial intelligence interaction management system to help banks remove the barriers between them and their customers.
Although her background includes work in an investment bank, Ho said that she always has preferred the newspaper's technology sections to those about finance. "Since I was really interested in technology, maybe it makes more sense for me to focus on technology and see where I can contribute," she added.
Ho quit her steady and well-paid banking job and stepped with resolve into the startup ecosystem, which resulted in a 70 percent pay cut. "In the beginning, there was a bit of a culture shock. And even now when I see new people joining our company, I'm like, 'I understand you because I've been there,' " Ho said.
Before launching Clare.AI, Ho devoted herself to two startups – one that specialized in cloud-based translation services, and the other in software customer relationships. At these companies, Ho started to think about the necessary skills required to become a startup's founder.
What she noticed back then were qualities like market understanding and development, fundraising, and the ability to find talented employees to work with. Ho said that her previous career choices provided her great exposure to corporate structures, various organizations and financial institutions. With a strong understanding of technology, she acquired better understanding of where the problems lie within financial institutions.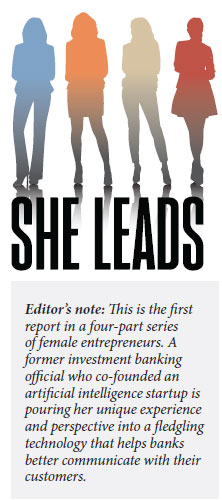 Ho noticed that financial institutions are spending a great deal of money on customer service but are still inefficient. A large number of retail customers still prefer to communicate in their home languages when encountering personal financial problems with technical terminology, while large corporations prefer to invest in major global languages like English and Spanish.
Besides, she noticed the trend in the traditional banking industry of tackling digital solutions, and she sought to combine the two and iron out the problems. When an investor introduced Ho to Ken Yeung, who specializes in technology, the two hit it off and began working together.
In financial institutions, services differ among branches and departments, and this makes it difficult for customers who have questions, Ho said. It's necessary to build a bridge between financial institutions and their customers with consistency, she added.
A white-label digital assistant developed by Clare.AI combines machine-learning algorithms with natural language processing to understand 10 languages, including Hong Kong-style Cantonese, a unique blend of Cantonese and English.
Instead of interpreting popularly used languages like English and Spanish, Clare.AI specializes in Asian languages such as Cantonese, Mandarin, Bahasa Indonesia, Malay, Japanese, Korean, Thai, Tagalog and Vietnamese. The startup obtains data from banks, call logs, emails and organizations carrying public information in these regions.
The chatbots can be deployed into multiple channels, including websites, messaging apps and other virtual platforms to provide customer service and conversational solutions on financial management round the clock.
"We see language as particularly interesting because it's nondeterministic as people don't usually speak in a very structured manner," said Ho. She added that the essential part is labeling the data, because only labeled data can generate meaningful information and train the algorithm model more intelligent.
Ho said the chatbots are deployed to render business plans and detailed information. When it comes to actual purchases, financial institutions will still follow the traditional rules to ensure security.
Besides using chatbots to control business conversations at scale, the system also has other applications to let enterprises control business operations.
The virtual assistant can offer personal financial management guidelines by learning clients' spending habits.
As a female co-founder, Ho sees more advantages rather than drawbacks. She believes that the Hong Kong leadership environment in general is relatively equal. There are an increasing number of opportunities to engage women in the industry, including panel discussions and female entrepreneur networking events.
"Female entrepreneurs are likely to have empathy toward the community," Ho said, adding that women have an easier time gaining a mentor and building trustworthy relationships with clients and other successful females.
However, she does find a few public social settings uncomfortable for women, such as social events in cigar bars.
Ho said she's lucky that her husband supports her career, and that her work partner, Yeung, is a solid co-founder and always considerate.
As both a wife and entrepreneur, "I think for me it's all about priorities and making time," Ho said.
To achieve a work-life balance, she does things like having no phone calls during dinners. "I'm super addicted to my phone, but I'm determined to make sure that I have a pretty good conversation with family and friends," she added.
Looking forward, Clare.AI aims to deepen collaboration with insurance companies to deploy strengths of consistent interaction with its potential clients.
pamelalin@chinadailyhk.com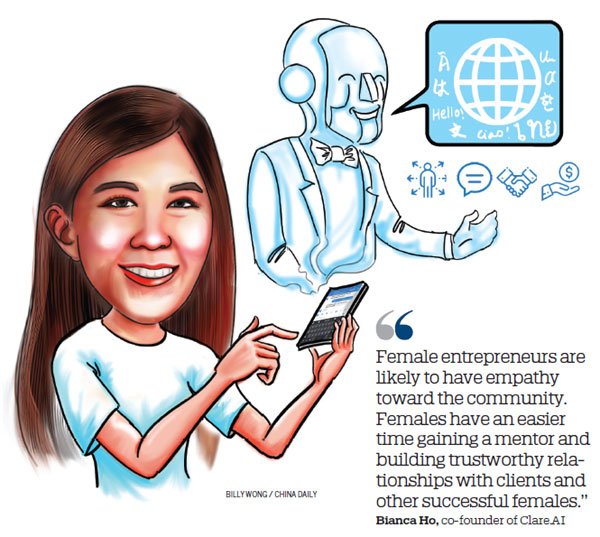 (HK Edition 06/28/2019 page10)