Don't glorify or sensationalize the circumstances of suicides
Updated: 2019-07-08 08:01
(HK Edition)
<!–enpproperty 2019-07-08 08:01:29.0
Don't glorify or sensationalize the circumstances of suicides11022442Comment HK2@hk/enpproperty–>
We're deeply saddened by the recent deaths of four young individuals who had chosen to end their lives. Our thoughts are with their families and friends as they grieve the loss of their loved ones. The loss of a loved one is never easy – people bereaved by suicide have to endure a slow and painful process. As we mourn the lives that were lost, let us not forget their families. We should respect and take into account the impact on them and avoid aggravating their pain.
In turbulent times of heightened emotions like this, it's easy to get overwhelmed by strong and negative emotions such as anger, hatred, resentment and fear. Such feelings can become so intense – to the extent of interfering with our daily lives, sleep quality and cognitive functioning. Some people may find themselves in a downward spiral of despair that may lead to self-destruction. At the height of the protests, suicide seems to have taken on a new meaning, but the World Health Organization advises against glorifying people who commit suicide as martyrs to prevent copycat suicides. Some media outlets have minimized their coverage of suicide for the same reason – people might be led to think that committing suicide would be a worthwhile sacrifice for the greater good when it only increases the pain and suffering of those who love them. The greater good of society calls for Hong Kong people to stand together to overcome adversity. To do that, we need to take good care of ourselves and one another as lives are precious.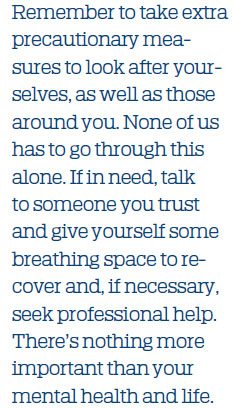 Reports of suicides on social media can have a contagion effect on people, who may be led to harm themselves with potentially lethal consequences. As a suicide prevention center, we urge everyone not to send or forward images or suicide notes of the deceased, or glorify or sensationalize the circumstances of their deaths. Rather, a more helpful response would be to offer your support by providing your companionship and a listening ear to show that every life matters.
During this difficult time, remember to take extra precautionary measures to look after yourselves, as well as those around you. None of us has to go through this alone. If in need, talk to someone you trust and give yourself some breathing space to recover and, if necessary, seek professional help. There's nothing more important than your mental health and life. We would like to urge social media and platforms to refrain from circulating information about suicide. When attending memorial events, stay alert and be sensitive to people's emotions. Do not further inflame the public with sensational coverage because none of us would like to see another suicide. Protecting ourselves and looking after one another are the best we can do to remember those who have lost their lives.
Hong Kong is facing an unprecedented challenge with a sense of gloom pervading the community that's both unsettling and heartbreaking. The passion of youths has touched the hearts of many Hong Kong residents. Don't give up because nothing is more precious than life, and nothing is more important than saving lives because all lives matter. Hong Kong has gone through ups and downs over the years. We can see this through together as we have in the past, without losing another one and without leaving anyone behind.
The author is director of the Centre for Suicide Research and Prevention at the University of Hong Kong.
(HK Edition 07/08/2019 page10)