Expert calls for broader changes to flesh out Bay Area vision
Updated: 2019-11-08 07:49
By Luo Weiteng in Hong Kong(HK Edition)
<!–enpproperty 2019-11-08 07:49:43.0Luo Weiteng in Hong Kong
Expert calls for broader changes to flesh out Bay Area vision1159929Hong Kong2@hk/enpproperty–>
A new initiative that eases restrictions on Hong Kong people buying homes in the Guangdong-Hong Kong-Macao Greater Bay Area essentially boosts a grand plan to create a globally competitive cluster of cities in the Pearl River Delta, an expert said on Thursday.
After the third plenary meeting of the leading group for the development of the Bay Area held in Beijing, Chief Executive Carrie Lam Cheng Yuet-ngor on Wednesday announced a whole package of 16 new policy measures which seek to make it easier for Hong Kong and Macao residents to live, work, study and start businesses across the 11-city cluster.
One of the highlights is easing of restrictions on Hong Kong and Macao people purchasing homes in the nine Guangdong cities in the Bay Area, who currently must show proof of tax payments, or contribute to the local social security fund for several years, or study and work locally for a certain time to be eligible to buy one property.
"Over the recent years, Shenzhen and Zhuhai have attracted a good many Hong Kong homebuyers to get on the property ladder," said Fielding Chen Shiyuan, Hong Kong-based senior vice-president and economist at China Construction Bank (Asia).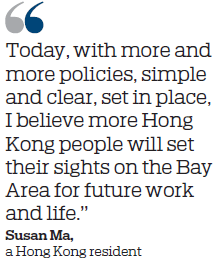 "The initiative may make more Hong Kong people relish the idea of crossing the boundary to buy property for their own use, but the potential demand may remain limited, at least in the short term, as quite a few Hong Kong residents have already been one step ahead of the policy to become homeowners in the Bay Area."
In the long run, as part and parcel of the whole package of new measures, the initiative, coupled with other policies, looks to eliminate system barriers to essentially foster regional collaboration and integration in the southern China powerhouse, he noted.
"After all, one could hardly expect talents to migrate to the region simply because buying houses there became easier," Chen argued.
"It is the broader, fundamental changes to the systems which put Hong Kong people on an equal footing with mainland citizens in the fields of living, studying, working and doing business that will give them a sense of belonging and a place of settlement," he said.
The raft of 16 new initiatives add flesh to the bones of the mega plan that aims to link nine Guangdong cities – Guangzhou, Shenzhen, Zhuhai, Foshan, Huizhou, Dongguan, Zhongshan, Jiangmen and Zhaoqing – and Hong Kong and Macao into a globally competitive cluster of metropolises that mirrors the country's economic miracle.
Beijing rolled out the Bay Area blueprint in February, which sent a positive signal of boosting the Hong Kong government's confidence in moving ahead with the mega plan, Chen said.
Susan Ma, a Hong Kong permanent resident who has purchased a 92-square-meter apartment in Huizhou with a lump-sum payment of 1,200,000 yuan ($171,984) in May last year, said the new policy had sparked lively discussions among her local friends.
When she headed north in search of a home for her future retirement last year, Ma said, a mortgage policy for Hong Kong residents in Huizhou remained unclear. She had no choice but to pay for her apartment in full.
"Today, with more and more policies, simple and clear, set in place, I believe more Hong Kong people will set their sights on the Bay Area for future work and life," Ma said. "It is not a matter of when. Instead, it is well underway."
sophia@chinadailyhk.com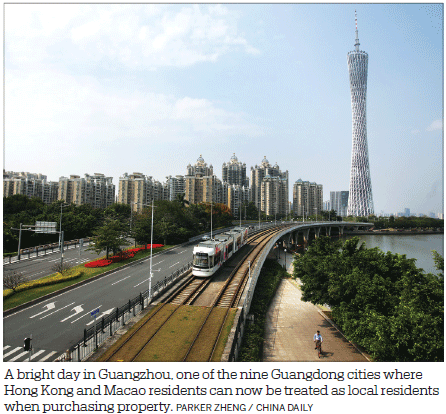 (HK Edition 11/08/2019 page4)