Extradition law amendments essential for HK: Elsie Leung
Updated: 2019-06-01 05:42
By Joseph Li in Hong Kong(HK Edition)
<!–enpproperty 2019-06-01 05:42:21.0Joseph Li in Hong Kong
Extradition law amendments essential for HK: Elsie Leung11023981Hong Kong2@hk/enpproperty–>
Amendments to Hong Kong's extradition law are necessary, even though the proposal may not be perfect, said former secretary for justice Elsie Leung Oi-sie.
Since the Hong Kong Special Administrative Region government has incorporated further amendments, the extradition bill is now acceptable, Leung said in an exclusive interview with China Daily.
"It is not a perfect legislation, but it is better than no legislation," she said. "So we can see the Hong Kong government is flexible and not set in stone."
"Earlier on, some people alleged that the amendment bill was ordered by the central government and nothing could be changed; now we can see that is not the case."
On Thursday, Secretary for Security John Lee Ka-chiu announced further amendments to the bill, which will be debated at the second reading stage in the Legislative Council on June 12. The amendments include: raising the threshold for the extradition of offenders for offences that carry a maximum penalty of three years of imprisonment to seven years of imprisonment, and that extradition requests from the Chinese mainland must be initiated at the central government level.
Leung said amendments to the Fugitive Offenders Ordinance and Mutual Legal Assistance in Criminal Matters Ordinance should be passed and come into effect as soon as possible.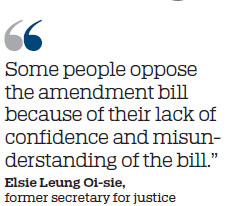 If the amended legislation proves effective, this will ease people's concerns. If necessary, the relevant legislation can be further amended, she ventured.
Leung said she agrees with the SAR government that the primary purpose of the amendments is to deal with the Taiwan murder case. She also said it is necessary to plug existing loopholes because at present, there are no rendition agreements between Hong Kong and the Chinese mainland and other parts of China. This makes it impossible for the rendition of fugitive offenders within one country.
Even if the Taiwan murder case is set aside, she said, the existing extradition legislation should be amended to provide a legal basis for extradition arrangements with other jurisdictions which have not signed permanent agreements with Hong Kong.
"There is no problem for the government to amend the law to handle the Taiwan murder case and plug a loophole at the same time," Leung said. "But some people oppose the amendment bill because of their lack of confidence and misunderstanding of the bill."
In the absence of long-term agreements, request for surrender of offenders has to be made on a case-by-case basis by way of subsidiary legislation at LegCo. Yet as the process takes 28 to 49 days, police can do nothing during that period. This means the offender may be alerted and flee Hong Kong.
She noted that a rendition agreement between the Chinese mainland and Taiwan was signed in 2009 after initial efforts by civilian agencies.
'Firewall' theory refuted
Leung, who was secretary for justice from 1997 to 2005, said the Fugitive Offenders Ordinance was enacted in 1996 by way of localization of a similar ordinance in Britain.
"The city had no time to enact brand new, comprehensive extradition legislation to cover the Chinese mainland because the government had many things to do at that time," she said. Leung added that there was no such thing as a "firewall" to deliberately separate Hong Kong from the mainland.
Leung further rejected suggestions of "trying Hong Kong people in Hong Kong (courts)".
"Whether a person's conduct amounts to an offense will be judged by the laws at the time and place where such conduct occurred. Related witnesses and evidence are normally available at that place," she explained. "In addition, Hong Kong does not have extraterritorial jurisdiction over criminal acts apart from a small number of offenses."
Hong Kong should not release a serious criminal simply because there are no extradition agreements. "Otherwise, Hong Kong will become an asylum for fugitive offenders," she noted.
"It is Hong Kong's duty to amend the existing law. If Taiwan refuses to take back the alleged murderer after Hong Kong has amended the law, it is their business. Even if Taiwan refuses to accept the fugitive offender this time, there may be future cases where Taiwan asks Hong Kong to surrender fugitive offenders."
joseph@chinadailyhk.com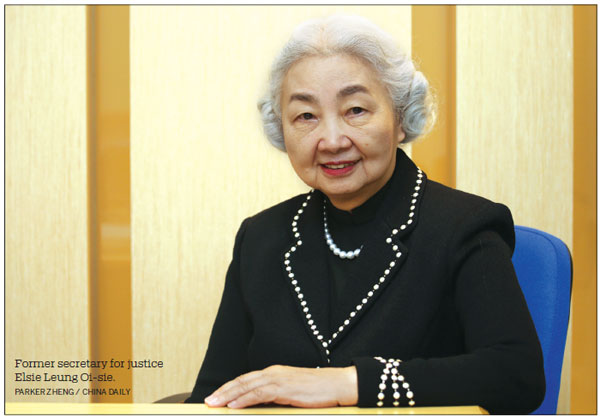 (HK Edition 06/01/2019 page4)