<!–enpproperty 2019-06-28 08:00:52.0
Following a dream11022443City Lights2@hk/enpproperty–>
Editor's Note: Fung Wai-hang has her hands full with directing Hong Kong Repertory Theatre productions and co-curating Hong Kong International Black Box Festival. In May she was named Artist of the Year by Hong Kong Arts Development Council for her outstanding contribution to drama in 2018. Excerpts from an exclusive interview to China Daily Hong Kong:
You're co-directing Stan Lai's A Dream Like a Dream which opens in West Kowloon Cultural District's new Freespace in July. It's a much-anticipated show – eight hours long excluding the intervals and I believe there is no clear demarcation between seating and performance areas. Would you like to tell us how it all came together?
I was an assistant director and also acted in A Dream Like a Dream when we put it on in 2002. This time the cast is quite different. Also it's quite a challenge, having to build the stage inside the black box theater in Freespace. Seventeen years ago we staged it in Hong Kong Cultural Centre's Studio Theatre. We managed to create the right environment but it was too small a space. Now we have been given a huge empty space and we have to build a stage with two floors. This is quite new for us, given we usually do only the sets and not the stage architecture.
It's an eight-hour show. We start at 1:30pm, break for dinner at 5pm, resume the play's second part at 7:15pm and end around 11pm.
How does the maneuverable seating design in Freespace's The Box lend itself to the theme of the play?
The acting area has been designed like a frame containing a lotus pond and the audiences are seated right in the middle while the actors move around them. Stan Lai, the playwright, is a Buddhist and the broad theme of the play is based on the idea of karma. The idea is that life is like a dream and it bears the shadow of a previous life. The play's protagonist experiences a strange occurrence in his life and tries to make sense of it by revisiting his past lives.
The audience will be required to rotate their seats during the show depending on where in the auditorium the action is. A part of the audience is also seated outside the frame of the lotus pond. The actors move clockwise, to different areas within the black box space, to perform a scene, and there are over a hundred scenes in total. The scale is quite epic.
Given people's shrinking attention spans, this is probably going to be a test of Hong Kong audiences' commitment to watching out-of-the-box theater, metaphorically speaking…
I don't think they will get bored. Seventeen years ago, there was such a high demand to watch this play. We could not accommodate everybody then. This time we have 25 shows and they were all sold out as soon as we opened the box.
This is a hit show in the Chinese mainland as well. It's performed to packed houses in Beijing and Shanghai every year.
Let's talk about one or two of the Hong Kong Repertory Theatre (HK Rep) productions you directed recently. How did Pride – a play by the Hunan-born Wang Haoran about a person from the Chinese mainland struggling to fit into Hong Kong society – come to be staged?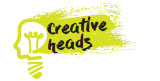 Pride is a product of HK Rep Playwrights' Lab, launched three years ago. We select five young playwrights who are required to attend a discussion toward developing a play twice every month for a year. Sometimes we invite experienced playwrights, dramaturges and theater producers to join in.
Among the five playwrights we selected in the first year, I found Wang's theme was highly representative of what many Hong Kong people were talking about at the time.
However, to me the relationship between people of Hong Kong and the Chinese mainland was of secondary importance. It was more about people moving away from their hometowns in search of a livelihood and then struggling to fit into a new environment. It was, in fact, triggered by Wang's own experiences of feeling isolated as a student in America. I truly appreciate his honesty as well as his ability to review his personal story and write it up as a play.
Both Pride and Le Pre, HK Rep's season-opening productions, also directed by you, are about individuals suffering from isolation and gradually losing their contact with physical reality. What drew you to Florian Zeller's play about an Alzheimer's-affected old man?
I think Zeller's Le Pre is brilliant. Rarely is there a play, film or TV series in which dementia is presented from a patient's point of view.
I tried to design the production like a thriller.
Indeed, there is a lot of ambiguity about the authenticity of the scenes, as some of them are apparently taking place inside the forgetful old man's head.
I was sometimes asked by my actors to pinpoint which of the scenes was a depiction of real life and which was playing in the old man's head but looking at it from an Alzheimer's-affected old man's point of view it would be impossible to distinguish.
I thought the way you showed incremental memory loss by subtly removing one item of furniture in each successive scene until the protagonist finds himself in a hospital and is not sure what he is doing there is brilliant. It might be quite unnerving to watch once one has figured out the logic behind the disappearing props though.
I wanted to keep it subtle and understated until the reality hits home in the last scene.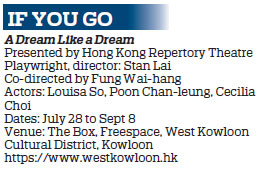 You used to be a prolific, award-winning film and stage actress, but nowadays your priorities seem to have shifted to directing, curating the biennial international black box theater festival and mentoring young Hong Kong theater professionals. What made you choose your current roles?
I joined HK Rep more than 30 years ago. It has become a second home to me. I don't mind doing anything at all in this company.
As an actress, one reaches a point after which one has to stop. There aren't that many good roles for middle-aged women in plays. Only a third or fourth of the characters are female and most of them are young and beautiful.
After 15 years of acting I felt I had opinions I wanted to express. I tried my hand at devising theater and co-directed pieces of experimental theater. When Fredric Mao became our artistic director, he said he would like me to take more directorial and managerial responsibilities. So I started acting less and less.
In 2008, it was Mr Mao who suggested I go back to school for a while. I signed up for the MFA in Theatre Practice program at the University of Exeter. There I met a professor, Phillip Zarrilli, whose views often contradicted my traditional thinking. He helped open my mind.
When I came back to Hong Kong in 2010 I took on the role of resident director at HK Rep. Since then I have curated nine seasons of HK Rep's black box programs. Having our own venue, I managed to transform it into a hub of young playwrights, directors and actors. Almost 40 productions have been staged in these years and I think that makes my work particularly meaningful.
Interviewed by Chitralekha Basu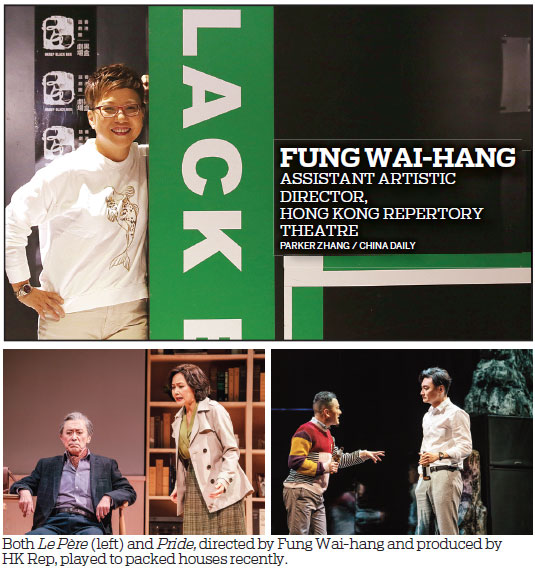 (HK Edition 06/28/2019 page12)