Germany is hurting our international reputation by sheltering HK fugitives
Updated: 2019-05-28 07:22
(HK Edition)
<!–enpproperty 2019-05-28 07:22:47.0
Germany is hurting our international reputation by sheltering HK fugitives11022442Comment HK2@hk/enpproperty–>
Tony Kwok suggests some action the SAR can take to force Germany to hand over the pair who face serious criminal charges relating to the 2016 Mong Kok riot
I recall that in the 1980s, the ICAC had prosecuted a major commercial corruption scandal involving a company called Swire Air Caterers Ltd where a number of its senior executives were subsequently indicted in the High Court for conspiracy to accept advantages from suppliers. The first defendant of the case was the company's general manager, Uwe Kaiser – a German national. He jumped bail and failed to appear in court. He was later traced to his hometown in Germany. ICAC sought his extradition but was denied by the German government. He is still at large.
Now we find Germany has done it again by granting asylum to two Hong Kong fugitives wanted by police on rioting charges. Ray Wong Toi-yeung, 25, and Alan Li Tung-sing, 27, had skipped bail in 2017 to avoid facing criminal charges relating to the Mong Kok riot in 2016. From the above two cases, one has to wonder about Germany's commitment to the rule of law and also its understanding of the rule of law.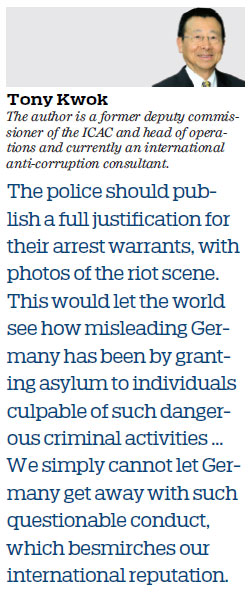 In response, Chief Executive Carrie Lam Cheng Yuet-ngor had summoned Germany's consular representative to express her dismay because the decision was tantamount to undermining "Hong Kong's international reputation in the rule of law and judicial independence". In expressing her displeasure, Carrie Lam noted that Hong Kong's judicial system was well respected internationally, with the World Economic Forum's Global Competitiveness Report ranking Hong Kong first in Asia for judicial independence.
Germany claimed that Wong and Li were granted refugee status because they were subject to political persecution in Hong Kong! This must surely win the most absurd news award for 2019! Were their Hong Kong consular staff not aware that practically the entire population of Hong Kong were riveted to the media coverage and stunned by the street violence of a mob of some 500 aggressive young people setting fire on the street and throwing bricks, wooden crates and rubbish bins at police officers, causing injuries to over 100 people including dozens of police officers? Many of the rioters wore masks and carried protective shields. This was a clear indication that the violence they meted out to law enforcement officers was premeditated. Local TV coverage showed instances of Wong encouraging the mob to attack the police. Again Germany's local consular staff should have known that in the court trial that followed, Wong's co-defendants in the High Court were found guilty not by a single judge, but by a panel of jury of nine people which demonstrated that the trial was very fair. Did they read the court's judgment on the sentencing of their co-defendants in which the judge stated very clearly that such organized violence was extremely serious and the court could not allow people to resort to violence in the name of pursuing social and political causes? In other words, the judge had basically ruled out that the offense had anything to do with political persecution. Had Germany done its due diligence before casting aspersions on Hong Kong's rule of law, it would have found that Hong Kong is ranked 16th out of 126 jurisdictions in the World Justice Rule of Law Index, ahead of a number of much more vocal democracies!
Did Germany honestly believe that if Wong were to stay in Hong Kong, he could not have a fair trial for the leading role he played during the Mong Kok riots? If the German authorities, who granted asylum status to Wong and Li had done their homework, they would not be so reckless as to grant asylum status to the two whose nefarious conduct on that fateful night was captured on many international electronic broadcasts. The only explanation for their baffling decision can only be attributed to the anti-establishment camp's effective media campaign on behalf of those violent perpetrators, or perhaps the decision was motivated by political considerations.
The German government should not be allowed to get away with such a flawed and fallacious decision which goes against well-known facts of the case. The reputation of our independent judiciary and steadfast adherence to the rule of law is at stake.
Fortunately, there are a few things we can do to mitigate the damage to our good name. Firstly, we should launch a formal extradition request to Germany for the return of these two fugitives to Hong Kong. In the meantime, Hong Kong police should immediately place these two people on Interpol's Red Notice list for arrest. That would mean that if ever the pair is outside German territory, they can be arrested. In conjunction with a global arrest warrant, police should publish a full justification for their arrest warrants, with photos of the riot scene. This would let the world see how misleading Germany has been by granting asylum to individuals culpable of such dangerous criminal activities. If Germany rejects Hong Kong's extradition request, we should then make a formal complaint to Interpol about Germany's failure to fulfill their responsibilities when it comes to international cooperation to tackle serious crime. At the same time, the SAR government and the central government should lodge a formal complaint to the United Nations High Commissioner for Refugees over Germany's abuse of the Geneva Convention on Refugees by offering asylum to hardcore criminals. We simply cannot let Germany get away with such questionable conduct, which besmirches our international reputation.
Hong Kong police should also conduct an in-depth investigation of Wong as there are many relevant questions that need to be answered. For example, what is the real source of the HK$600,000 ($76,000) in cash in his possession at the time of his arrest? Who paid for the top legal counsel to apply for bail on his behalf? Why he was granted bail to travel to Germany and most importantly, who has been financing his living expenses and assisted in his escape, which is an offense of "assisting offenders" under Section 90(1) of the Criminal Procedure Ordinance and common law. It has since been revealed that he had secret meetings with US consulate staff before the Mong Kok riot. There could be a lot more to this than meets the eye!
(HK Edition 05/28/2019 page9)