Give civility and moderation a chance to bring us together
Updated: 2019-09-11 08:15
(HK Edition)
<!–enpproperty 2019-09-11 08:15:27.0
Give civility and moderation a chance to bring us together11022442Comment HK2@hk/enpproperty–>
Let's pocket Chief Executive Carrie Lam Cheng Yuet-ngor's long-awaited withdrawal of the extradition bill and move on because the road ahead for reconciliation is long and arduous. The sooner we stop bogging ourselves down in the mud, the better.
The government's proposed bill would have allowed case-by-case renditions of alleged fugitive offenders from Hong Kong to other jurisdictions, including the mainland. It triggered massive protests because people worried that offenders would not be given fair treatment with regard to the mainland.
The protests were peaceful until they were hijacked by a small number of radicalized youth who, by now, have not only caused considerable inconvenience to the public, but also damaged infrastructure and Hong Kong's reputation as one of the world's safest cities. The latest was Hong Kong's credit downgrade by an international rating agency as a result of continual disturbances.
True to form, protesters and opposition politicians have refused the chief executive's olive branch. They said it was "too little, too late". They have invested a lot in the protests and aren't ready to give in just yet. They hope they can carry a good segment of the public with them and sustain a "new normal" in which protest activities continue every weekend. The government and police will also have to keep going to maintain law and order. But this is detrimental both to the body politic and most certainly our economy.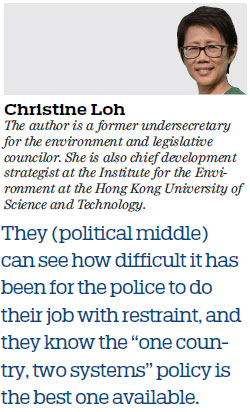 It is time for the "political middle" in Hong Kong to give the current impasse serious reflection and help devise a way out. While the government has not won them over yet, surely they cannot countenance the new normal to become the weekly default. It is time for them to dig down within themselves to find the political and moral courage to do the right thing.
This is a precious but delicate moment with moderates in the driver's seat because both the government and the protesters want their support. The political middle has sympathies for both sides. They won't forget Lam's poor handling of the extradition bill but accept she has a role to defuse the crisis she provoked. They recognize the protesters' desire to protect Hong Kong's core values, but they are uncomfortable with the continuing disruptions and violence in the name of justice and freedom. They can see how difficult it has been for the police to do their job with restraint, and they know the "one country, two systems" policy is the best one available.
The responsibility for bringing about moderation rests with the political middle so that the conditions conducive for preliminary meetings and agenda-setting are in place before any attempt at reconciliation can take place. The first step is to de-escalate tensions by not feeding the energy for continual protests. The political middle should accept Mrs Lam's offer for dialogue. After all, why not let officials go to the people in town halls to listen to their grievances, concerns and ideas? The challenge of the government is to ensure these gatherings are well-organized to fit the purpose. People should participate and share their thoughts and feelings. These should primarily be for bureaucrats to listen without injecting their excuses for a course of action or non-action. These gatherings will be watched by all.
Another step is to give the existing system for police complaints a chance. The public and protesters have called for a commission of inquiry instead because they question whether the complaints mechanism would be independent enough to truly assess whether the police had abused their powers in dealing with protesters. The problem is they want the inquiry to look only at the faults of the police and not the protesters. This is self-serving and unacceptable. The police complaint process has already started under an excellent, capable and fair-minded chairman. The political middle should first let him do his job. A commission of inquiry can still be instituted at another time if and when the complaint process is found wanting.
The political middle can also help Hong Kong as a whole understand how dialogue of reconciliation works by looking at overseas examples. And Hong Kong's own crew of people with mediation skills can help facilitate this dialogue process. It would serve three purposes.
First, it will have an educational effect. Human society can be stuck in conflict and even wars for an extended period, but conflicts are settled through contending sides talking to each other and coming to an agreement to build peace instead. Hong Kong's problems are not nearly as intractable as those experienced by others, such as South Africa and Northern Ireland, and they were able to resolve them through dialogue of reconciliation. There are useful examples from Asia too.
Secondly, it will become clear that dialogue processes take time to construct. They need to be designed, organized and facilitated with skill. Yes, before the contending sides sit down to talk, there has to be a period of trust-building. It is not just for the protesters to say they don't trust the government; the government also has to trust the protesters. This is why the chief executive's olive branch should not be dismissed. The protesters can also respond by putting down their weapons to show goodwill. They could also rearm themselves should the government be found to be insincere.
Thirdly, to succeed, the meeting of hearts and minds doesn't come about by each side repeating their positions. Dialogue is about exploring assumptions, perspectives and options in an environment where the contending sides can be helped to dig deep into their better selves. Thus, adopting a disposition of moderation helps. Both sides should also realize it is not a contest in which the winner takes all.
Hong Kong's political culture has been poisoned. Insults, invectives and lies have been thrown about. Much violence and pain have been inflicted. The community is feeling psychological stress, and people are touchy, anxious and irritable. Families, schoolmates and co-workers are split. Hong Kong has lost its innocence. Politics can turn friends into foes. Hence, moderation as a disposition helps us to be with each other, and civility enables us to conduct intelligent and constructive exchanges.
(HK Edition 09/11/2019 page7)