'Global uncertainties to slow down HK economy'
Updated: 2019-05-28 07:21
By Edith Lu in Hong Kong(HK Edition)
<!–enpproperty 2019-05-28 07:21:21.0Edith Lu in Hong Kong
'Global uncertainties to slow down HK economy'11023981Hong Kong2@hk/enpproperty–>
Hong Kong's economic growth is expected to remain slow for the whole of this year, dragged down by global uncertainties and weaker local investment, says veteran banker Margaret Leung Ko May-yee.
The scenario is brought about by escalating Sino-US trade tensions which have dented confidence among Hong Kong businesspeople, who have become more cautious with plowing their money into new projects.
Leung, a former chief executive officer of both Hang Seng Bank and Chong Hing Bank, said investors have been unnerved by an uncertain investment climate, and although they may stick to ongoing projects, new investments are bound to slow down.
"With twists and turns almost every day, much is still up in the air," she told China Daily in an interview before she was conferred an honorary fellowship by the Hang Seng University of Hong Kong last week.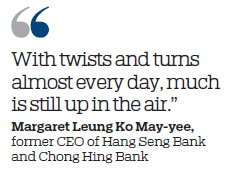 According to a government report, Hong Kong's gross domestic product expanded at a revised 0.6 percent in the first quarter of 2019, compared with a year ago. It was the slowest quarterly pace of growth since the 2007-08 global financial crisis.
Leung noted that the SAR's economy is quite export-oriented, and could be easily influenced by external factors. Amid an unstable world economy, the city's economic growth rate is likely to stay low for the rest of the year, particularly when the Chinese mainland economy is in a transitional stage.
In the long run, Leung said, China might be able to research and develop certain goods it has been importing from the United States, or buy them from Europe, as alternatives.
Like the mainland, Hong Kong is also undergoing an economic transition, and could find itself a lifeline as its unemployment rate is still low. Furthermore, she said, Hong Kong will not jack up interest rates theoretically this year.
US Federal Reserve officials hinted last week that policymakers see little need to raise or lower the target interest rate from its current level of between 2.25 and 2.5 percent.
"As the US rate is unlikely to come down, the interest rate spread between Hong Kong and the US remains wide," said Leung.
The Hong Kong dollar stood at 7.8493 to the greenback as of 11:38 am on Monday, close to the 7.85 end of its band, after climbing to as high as 7.8305 in April this year. The local currency hit the weak end of its trading band on Wednesday. But Leung made no comment on if this would happen again in the short term.
Since the US and Hong Kong will not raise interest rates, Leung believes the local property market will not fall, as it is backed by abundant liquidity.
As for the sluggish stock market, she said it will continue to be volatile, and suggested that retail investors adopt a long-term view rather than trying to make a fast buck.
Leung retired from her banking career, which spanned more than four decades, a year ago and recently stepped down as director of Hong Kong Exchanges and Clearing.
She does not plan to withdraw from the financial industry completely, and remains an independent non-executive director with three companies in various fields.
"Experience will fade unless you keep yourself posted with the latest developments," she said. "That's why incessant learning is important for me."
edithlu@chinadailyhk.com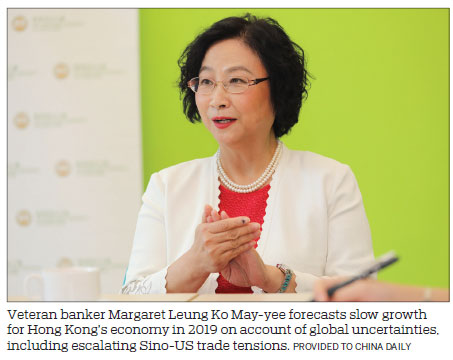 (HK Edition 05/28/2019 page4)