Government agencies need to unite in bid to save HKSAR
Updated: 2019-11-08 07:40
By Chow Pak-chin(HK Edition)
<!–enpproperty 2019-11-08 07:40:39.0Chow Pak-chin
Government agencies need to unite in bid to save HKSAR11022442Comment HK2@hk/enpproperty–>
When Carrie Lam Cheng Yuet-ngor assumed the office of Hong Kong chief executive in 2017, President Xi Jinping offered her some incredibly farsighted advice.
Xi pointed out the three fundamental guiding principles for governance, the first of which was how one must never forget to repay their country with utmost loyalty. His second and third pieces of advice were even more fitting, and are desperately needed in Hong Kong today.
He warned government officials against inaction or neglect of their duties in the face of adversity, stating that those who evade their responsibilities would hang their heads in shame for the rest of their lives. And, aiming at government officials and civil servants of all levels, he urged them to remain united with "a common purpose", and to tackle any and all issues that arise with unabated determination, for the sake of Hong Kong.
The advice Xi gave two years ago foreshadowed inadequacies in the Hong Kong administration today, as it buckles time and again under the pressure of five months of anti-government protests.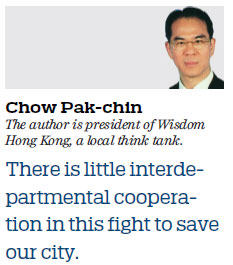 We are fighting a regime change, with protesters adopting increasingly violent and other disruptive actions to destabilize the city and discredit the authorities. By shaking the foundations of our urban system and its public services, they hope to paralyze the community. As the Chinese saying goes, "A single arrow is easily broken, but not 10 in a bundle," it is essential now for each public servant in all departments and at all levels, from top to bottom, to stand shoulder to shoulder together. They must be seen and heard to be supporting the administration if Hong Kong is ever to overcome this political crisis.
Our city is on fire, and parts of it feel like a war zone. The various organs and departments of the government must come together in spirit and in action to tackle the flames. It was, for example, both unsettling and shocking to see the Lands Department ordering protest-hit banks and businesses – often mainland enterprises – to remove their protective hoardings after their glass doors and shop windows were smashed by rioters, which were deemed illegal structures that were taking up parts of public pavements.
How could the Lands Department officials be so flippant about the security risks posed not only to the business establishments themselves, but also to the businesses' customers? Did they not stop to consider why these protective measures had been adopted in the first place? Obviously, they did not see themselves as part of the government, but just as officials of a stand-alone entity trying their best to fend off responsibilities.
Banks and businesses have regularly been the target of violent attacks over the past few months. Branches, shops and facilities have been damaged and, on occasion, even looted. In the absence of heightened security measures, services risk being disrupted, and the personal data of customers being compromised or stolen.
Were a typhoon or natural disaster threatening Hong Kong, Lands Department officials would surely have adopted timely and appropriate defensive measures. They would have battened down the hatches in advance of the storm. In the face of anti-government protests, however, they faltered. Rather than protecting the enterprises and their employees from the threat of riots and vandalism by allowing protective hoardings to be erected, they inflicted secondary damage by ordering the enterprises to remove the hoardings. This must be a classic case of adding insult to injury. Fortunately, in the end, the department rescinded the removal orders. But their action in the first place was a revelation of the mindset of the department.
As if the Lands Department debacle was not enough, a firefighter was seen swearing profusely at a police officer who had fired tear gas in his direction, hitting the fire engine he was operating. He was most likely unaware of the demoralizing image that his emotions portrayed. His anger was in all likelihood an unintentional outburst at the spur of the moment of high drama and stress.
Nevertheless, the firefighter involved should have understood, if not prepared for, the likelihood of being hit by "friendly fire". Cooperation between different government departments, rather than discord, needs to be the order of the day. And it is the responsibility of the top echelons of government to make sure that all units work as a team.
The example of this single incident illustrates how leaders of the Fire Services Department have failed to sufficiently brief their staff about reacting to, and being supportive of, police actions during violent protests.
Meanwhile, we are happy to see that the Food and Environmental Hygiene Department (FEHD) officials have finally taken up their responsibility to deal with "Lennon walls", which have sprung up across the city. Some of the paper slips and posters commonly found at these locations have extended onto pavements, making surfaces slippery and hazardous for pedestrians. Better late than never.
Even more ridiculous, the FEHD placed a half-page advertisement in the Apple Daily newspaper, a publication notorious for its role in the anti-government movement.
We could go on. When the police said they would be requesting extra manpower from other disciplinary forces such as the Correctional Services and Customs and Excise departments to help quell violent protests, customs officials swiftly announced they would loan only equipment, but not personnel.
Many people seem to misunderstand what it means for civil servants to remain politically neutral. And, sadly, "minding our own business" seems to be the motto adopted by many government departments. There is little interdepartmental cooperation in this fight to save our city.
Political neutrality does not and should not mean that a civil servant can ignore political instructions to carry out their official duties. Whenever there is a change of government, such as, for example, the Republican Party in the United States coming to power, it is only natural to expect all public servants, regardless of their party affiliation or personal political convictions, to carry out Republican government policies.
By the same token, our civil servants should be expected to execute government policies and decisions and to pledge allegiance to the Hong Kong Special Administrative Region of the People's Republic of China, irrespective of their individual political views.
At this critical juncture for Hong Kong, the government should, through all bureau and department heads, remind all their employees of the correct and proper mindset required of them. We lead by example, and if we are to combat the dire situation presently threatening the very fabric of Hong Kong society, the government must take on the challenge in complete unity.
(HK Edition 11/08/2019 page12)