Government urged to provide instant relief and talk to people
Updated: 2019-08-16 07:00
By Joseph Li in Hong Kong(HK Edition)
<!–enpproperty 2019-08-16 07:00:45.0Joseph Li in Hong Kong
Government urged to provide instant relief and talk to people1159929Hong Kong2@hk/enpproperty–>
The Democratic Alliance for the Betterment and Progress of Hong Kong has called for instant measures to invigorate the economy that has been hard hit by violent demonstrations in the past two months.
Speaking to China Daily, party chairperson and legislator Starry Lee Wai-king called on Chief Executive Carrie Lam Cheng Yuet-ngor to tackle deep-rooted social problems with strong resolve, and communicate with the public with sincerity.
"The trend of economic downturn is very worrisome," Lee told China daily in an exclusive interview.
"Affected by the China-US trade dispute, the external economic environment does not look good. While domestic consumption decreases, as the retail, catering and tourism sectors are suffering the worst declines. The government needs to take instant action without waiting for the Policy Address in October and the Budget in March next year."
The party met with the chief executive on Thursday afternoon, and proposed that the government provide loans and guarantees to help small- and medium-sized enterprises that have been badly affected, exempt licensing fees for SMEs, increase tax rebates, and issue cash vouchers to stimulate domestic consumption while waiving public housing rents.
However, all these initiatives need approval by the Legislative Council's Finance Committee. But the LegCo cannot hold any meeting till October.
Deep-rooted problems
Lee said young people are restless and unsatisfied because they find housing too expensive and few opportunities for upward mobility. The extradition bill triggered mass demonstrations that were peaceful in the early stage. But subsequent violent and unlawful protests were fueled by the boiling fury of young people troubled by deep-rooted problems.
"Supply of land and public housing is trailing," she said. "We hope the government will come out with the biggest efforts to honor its pledge that people will be able to get public housing within three years to soothe the pain of the grassroots and the young people. The wait for public housing now is more than five years.
"If the Land Sharing Pilot Scheme, which aims to release privately owned agricultural land, is not well-responded, the government should take bold steps to invoke the Lands Resumption Ordinance. The government should not be afraid of judicial review challenges from land owners. We hope the government can greatly increase land reserves."
joseph@chinadailyhk.com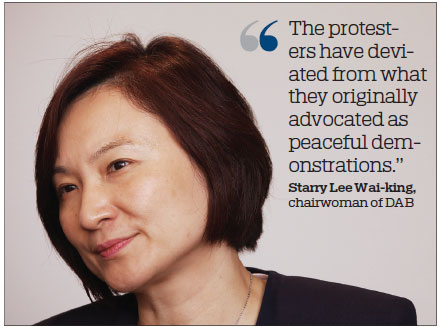 (HK Edition 08/16/2019 page4)