High Court extends ban on leaking police privacy with media exempted
Updated: 2019-11-09 07:18
By Gu Mengyan in Hong Kong(HK Edition)
<!–enpproperty 2019-11-09 07:18:01.0Gu Mengyan in Hong Kong
High Court extends ban on leaking police privacy with media exempted1159929Hong Kong2@hk/enpproperty–>
The Hong Kong High Court on Friday extended an interim injunction to protect the police force from harassment by banning the release of personal details of police officers and their family members until further notice.
Meanwhile, the court granted an exemption for media outlets, as the renewed order will not prohibit lawful acts done solely for the purpose of a "news activity" as defined in the Personal Data (Privacy) Ordinance.
"If doxxing practices are not curtailed, the fire of distrust, fear and hatred ignited by them will soon consume public confidence in law and order," said Justice Russell Coleman in explaining the decision.
The Hong Kong Journalists Association filed an application to narrow the scope of the injunction order by altering the wording, as reporters may have trouble discerning what amounts to a violation of the order and thereby compromising reporting activities.
The amended injunction prohibits the public from "intimidating, molesting, harassing, threatening, or pestering" police officers or their families, as well as disclosing their personal information without consent.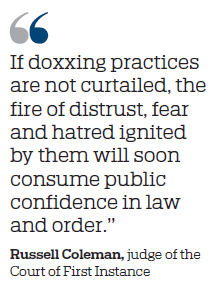 Except for standard news coverage, any public display of officers' personal data, including their names, addresses, photographs or even social media accounts, is not allowed.
Department of Justice lawyer Jonathan Chang argued that a blanket exemption to the press would undermine the effectiveness of the court order, as any publication of information could be abused for doxxing against officers "in the present climate".
The injunction, issued on Oct 25, was sought by the Department of Justice and the police commissioner following extensive doxxing and cyberbullying of police officers, including death threats to their children, by radical anti-government protesters.
As of Friday noon, the Office of the Privacy Commissioner for Personal Data had received 3,790 cases of doxxing and cyberbullying since mid-June.
Thirty-four percent were related to police officers and their families, the largest group falling victim to doxxing, compared with 29 percent before the injunction was ordered, according to the privacy watchdog.
Other injunctions had also been in place over the past few weeks to help protect officers and their families, including keeping election registers secret from the public and restricting activities near the disciplined services quarters and police married quarters.
jefferygu@chinadailyhk.com
(HK Edition 11/09/2019 page2)