HK Disneyland loses $55 million in turbulent Q3
Updated: 2019-11-09 07:18
By Luo Weiteng in Hong Kong(HK Edition)
<!–enpproperty 2019-11-09 07:18:01.0Luo Weiteng in Hong Kong
HK Disneyland loses $55 million in turbulent Q31159929Hong Kong2@hk/enpproperty–>
The Walt Disney Co said the drawn-out social unrest in Hong Kong is weighing on its earnings at the local Disneyland theme park, as five months of citywide violence has rocked the city and worried tourists.
Hong Kong Disneyland lost $55 million from July through September, and expects an $80 million shortfall in the final quarter due to "a significant decrease in tourism from Chinese mainland and other parts of Asia".
Operating income at Hong Kong Disneyland Resort could plunge by nearly $275 million in the fiscal year ending September 2020 if the current situation shows no signs of abating, Disney Chief Financial Officer Christine McCarthy warned in an earnings call on Thursday.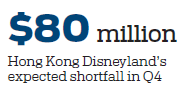 Growth at Disneyland Paris and the Shanghai Disney Resort were offset by lower results at the Hong Kong Disneyland Resort, McCarthy said.
Hong Kong Disneyland's major rival, Ocean Park Hong Kong, hasn't fared any better. The city's second-largest theme park, which has attracted 5.8 million to 7.6 million visitors annually over the past five years, suffered from a year-on-year 80 percent nosedive in tour group numbers and a year-on-year 70 percent tumble in individual visitors from the Chinese mainland and overseas in September.
An Ocean Park spokesman said "it is facing an acute operating environment" and sees no light at the end of the tunnel.
Visitor numbers to Hong Kong, of which almost 80 percent come from the mainland, have taken a hammering from the ongoing waves of protests. In the first half of October, which includes the "golden week" holiday, total tourist arrivals to the city fell 50 percent year-on-year, marking the worst downturn since the SARS outbreak in 2002-03.
About 40 countries and regions have issued warnings or alerts against travel to Hong Kong.
On Wednesday, Virgin Australia, the country's second-largest carrier, said it would ax its Melbourne-Hong Kong route, which has underperformed amid the protracted violent turmoil in the city.
sophia@chinadailyhk.com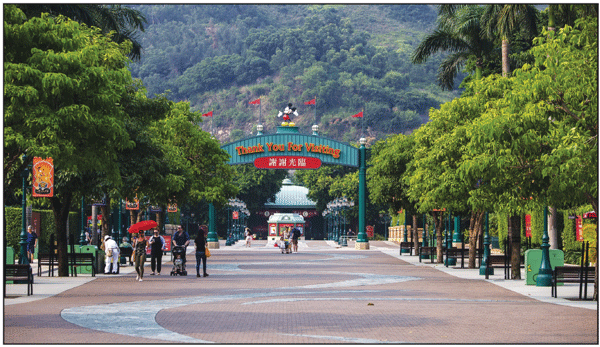 An avenue leading to Hong Kong Disneyland, one of the city's most popular tourist attractions, is almost empty on Sept 27. Bloomberg
(HK Edition 11/09/2019 page2)