HK-Shenzhen partnership one of close cooperation, not competition: Experts
Updated: 2019-10-11 08:01
By David Ho in Hong Kong(HK Edition)
<!–enpproperty 2019-10-11 08:01:08.0David Ho in Hong Kong
HK-Shenzhen partnership one of close cooperation, not competition: Experts11023981Roundtable2@hk/enpproperty–>
Shenzhen is poised to play a key role in the development of the Bay Area, but is unlikely to replace Hong Kong, speakers told anannual Great Bay Area conference on Thursday. They stressed that cooperation betweenthe two cities will be vital for the success of therapidlygrowingregion.
In a keynote speech at thefifthGreater Bay Area Conferencein Hong Kong,LeungChun-ying, vice-chairman ofthe National Committee of the Chinese People's Political Consultative Conferenceand former chief executive of Hong Kong,highlighted the importance of"policy innovation"forgreater integration of the Bay Area.
Throughouttwo roundtable discussions, one on cross-border business opportunities and another on the evolution of healthcare solutions, speakers regularly stressed theneed for innovation.Aluncheon dialoguehad the theme: "Shenzhen as a Pilot Demonstration Area: Opportunities and Challenges for Hong Kong".
In August, the centralgovernment released detailed guidelines on how to build Shenzheninto a pilot demonstration area. The aim is to develop Shenzhen into an international city by 2025 and a global benchmark by 2035 while also creating a "sandbox" to experiment with economic reforms.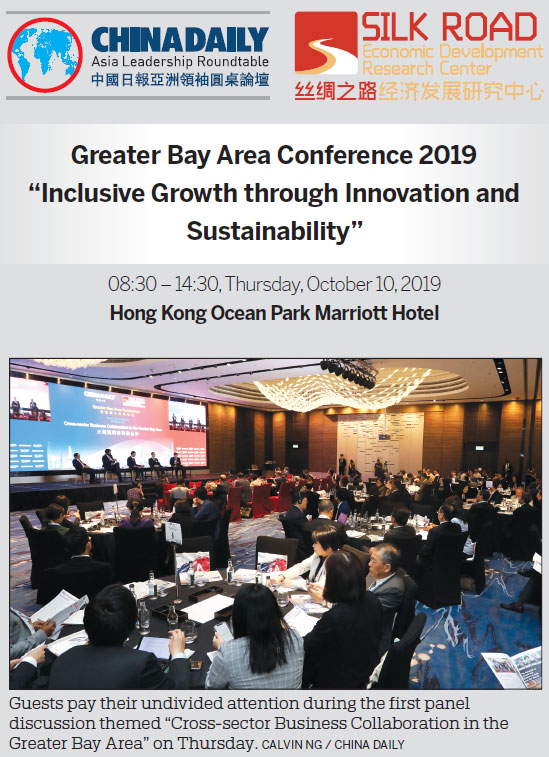 "The pilot zone is about experiments and opening up to Hong Kong and Macao in business," said Witman Hung, principal liaison officer for Hong Kong at the ShenzhenQianhaiAuthority.
GuoWanda, the executive vice-president of the China Development Institute,said thenewplan is similar to the vision 40 years ago to turn Shenzhen into a special economic zone – a drive which helped launch China'sopening-up.He also noted that despite efforts to build Shenzhen into aworld-classcenter, the southernChinese metropolis is unlikely toreplace Hong Kong. This isbecause the two citieshave completely different economic, social and legal systems, he added.
"This would ultimately lead to both competition and cooperation between two global cities," said Guo, whoalso urged bothcities tokeep pursuing innovation.
Guo said thepilot demonstration area is a "unilateral, not bilateral" way for the mainland toopen upto Hong Kong and Macao.
"There are lots of opportunities for Hong Kong people in the zone. They will be treated the same way as local people in terms of tax, property, social insurance, housing, etc," explained Guo."I'm an optimistic person and market demand will see cooperation begin."
Policies focusing on easiercustoms clearancesand facilitating the movement of people should make doing business in Shenzhen easier.
"The central governmentset upa taskforce afew months ago to look into these issues.They are still doing the research; so give them some time and we hopeto seethefruitsof the worksoon," said Guo.
For example,Hong Kong architects are already allowed topractice onthemainland; those he has spoken to have benefitted from this.
"But different sectors will see different rates of progress. Things like finance will be tricky, so we'll start withthe simpler ones first," Guo stressed.
There are also things that Hong Kong can do forShenzhen.
LoChung-mau, hospital chief executive at The University of Hong Kong-Shenzhen Hospital, compared the different healthcare systemson the mainland and Hong Kongduring an earlierroundtable.
"There is a lack of talent in the medical field (on the mainland). Shenzhen has been aggressive in attracting talent but it's not sustainable, especially as it has a population three times the size of Hong Kong," said Lo.
"What Shenzhen needs is to build up infrastructure for medical education and training and this could be what Hong Kong offers Shenzhen to help make it a sustainable service."
Ultimately, both sides will need to work togetherfor the Bay Area to succeed.
"It's about the harmonizationof cultural and government policies. People have to improve their understanding of each other to remove all potential barriers," said Guo.
The event began in the morning with welcome speeches from leaders of co-organizing organizations,includingZhou Li, editorial board member of China Daily Group and the publisherandeditor-in-chief of China Daily Asia Pacific,andJoseph Chan Nap-kee,chairman of the Silk Road Economic Development ResearchCenter.
China Daily
(HK Edition 10/11/2019 page8)