Ip: Rendition bill opponents are hypocrites
Updated: 2019-06-29 06:53
By Staff Writer in Hong Kong(HK Edition)
<!–enpproperty 2019-06-29 06:53:19.0Staff Writer in Hong Kong
Ip: Rendition bill opponents are hypocrites11023981Hong Kong2@hk/enpproperty–>
Loudest critics of amendments had actually advocated such changes back in 1998
Lawmaker Regina Ip Lau Suk-yee said the city's opposition camp is being two-faced in its criticism of the proposed amendments to the city's extradition laws, as some opponents today supported a similar proposal 21 years ago.
In a speech to the Legislative Council on Thursday, Ip noted that Martin Lee Chu-ming, one of the most outspoken opposition members against the now-suspended extradition bill, was in fact the first one in the city to call for rendition arrangements with the Chinese mainland.
According to the LegCo minutes of a council meeting in December 1998, then-legislator Lee proposed a motion in the hopes that the Hong Kong Special Administrative Region government could discuss and conclude a fugitive arrangement with the mainland as soon as possible, Ip said.
The motion proposed by Lee was triggered by a kidnapping case and a murder case in which suspects accused of committing crimes in Hong Kong fled to the mainland and were arrested and put on trial there.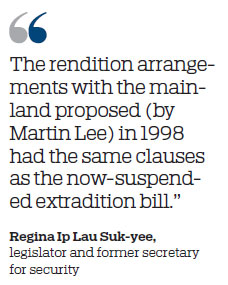 But this May, Lee traveled to the United States and urged the US government to try to prevent the SAR government from amending the city's extradition laws, Ip said.
In addition, another opposition figure, then-chief secretary for administration Anson Chan Fang On-sang, in 1998 had pledged the government would do its utmost to press ahead to conclude an early agreement with the mainland on surrendering fugitive offenders, according to a LegCo document.
In May, Chan went to Germany and expressed hope for the German government to pressure the SAR government into withdrawing the proposed fugitive bill, Ip said.
Ip, who was secretary for security from 1998 to 2003, added that the rendition arrangements with the mainland that were proposed in 1998 had the same clauses as the now-suspended extradition bill, including targeting only specific offenses, and stipulating that suspects of offenses related to political issues cannot be surrendered.
These politicians deliberately tarnished the image of the proposed extradition bill for their own political purposes, Ip said, adding that they have deluded and misled the people of Hong Kong.
Moreover, Ip also condemned the recent sieges of Hong Kong Police Headquarters in Wan Chai.
The Hong Kong Police Force is a pillar of the city's public security and order, Ip said, adding that the protesters who blocked the headquarters' entrances have turned into "rebels".
On Wednesday night, hundreds of protesters besieged the police base for the second time in a week. Some radical ones even threw eggs and umbrellas at police officers and painted vulgar words on the wall of the building.
The real purpose of these radical demonstrators is to drag down the SAR government and jeopardize the interests of all Hong Kong residents, Ip claimed.
She appealed to residents not to support those who attempt to impose threats to Hong Kong's stability and prosperity.
(HK Edition 06/29/2019 page2)