Ko deplores illegal storming of the Legislative Council building
Updated: 2019-07-08 08:01
By Joseph Li in Hong Kong(HK Edition)
<!–enpproperty 2019-07-08 08:01:54.0Joseph Li in Hong Kong
Ko deplores illegal storming of the Legislative Council building11023981Hong Kong2@hk/enpproperty–>
Ex-minister suspects foreign intervention in violent protests, attacks by demonstrators
Former secretary for food and health Ko Wing-man has hit out at the ruthless attack on the Legislative Council complex on July 1, calling it a violent and lawless act.
In an exclusive interview with China Daily, he also defended the extradition law amendments that sparked the massive processions and protests, and said the police had exercised a high degree of restraint in dealing with such a huge number of demonstrators.
Ko said there's one trend in Hong Kong politics that worries him very much – some people and politicians reject public policy decisions although they are made through due processes, and react violently and unlawfully.
Although Ko did not use the word "condemn", what he said amounted to denunciation from a former official, who's seen as a normally gentle, mild and soft-spoken person, who had enjoyed a high popularity rating in polls when he was a government minister from 2012 to 2017.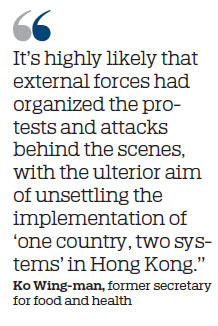 Ko – a highly-respected medical practitioner – thought there was a need to amend the extradition law to plug a legal loophole and prevent Hong Kong from becoming a haven for fugitives.
Various sectors of the community had expressed concern about the bill, prompting the government to take steps to address their concerns by providing more legal safeguards for suspected offenders.
In response, the government had raised the jail threshold for extraditable offenses from the original three years to seven years, and stated that the alleged offense should be a crime in both the jurisdiction where the offense is committed and in the jurisdiction which requested an extradition.
Ko noted that the government had already stated that offenses of a political and religious nature would not be subject to extradition, whereas in other countries, rendition of people for geopolitical reasons sometimes happens.
More importantly, in Hong Kong, he explained there's a robust, independent judicial system to hear appeals and judicial reviews from people facing extradition.
'Excuse' to pressure govt
"Now, the government has suspended the bill, meaning it will not be scrutinized during this legislative term. And, as the District Council and LegCo elections will follow and the tenure of the government will lapse in July 2022, there's little or no chance for the bill to be passed during this period.
"So, those people and political parties who mess around with phrases like 'withdraw the bill' are merely using this as an excuse to pressure the Hong Kong SAR government," Ko said.
In his view, most of the people joining the processions were peaceful, but a number of protesters had attacked the LegCo building with a high degree of brutality using steel barriers, sharpened pipes, wheeled cage carts and bricks. They had also swamped government buildings and metro stations to disrupt the daily lives of residents.
"As seen on TV, the invaders were escorted by certain lawmakers when they ruthlessly vandalized the LegCo building. They seemed to have a target, selectively taking away hard discs with the personal information of government officials and legislators.
"It's neither right nor acceptable for politicians and foreign government officials to harbor and justify the criminal acts of the assailants. Can these countries tolerate similar sabotage acts in their own countries? They are simply practicing double standards by condoning what has happened in Hong Kong," said Ko.
Referring to some people's demand for an independent inquiry into the level of force the police had used in handling the recent protests, Ko rejected the idea, saying the Independent Police Complaints Council should do the job, adding that not every city has a statutory body like the IPCC to handle complaints against police.
The former minister said he suspected foreign intervention in the protests and violent attacks. "It's highly likely that external forces had organized the protests and attacks behind the scenes, with the ulterior aim of unsettling the implementation of 'one country, two systems' in Hong Kong."
Worrying political trend
Ko also cited a worrying political trend that has emerged recently following the "Occupy Central" protests in 2014, noting that for their own reasons, some people and political parties reject policy decisions or consensus even though such policies have been made through due processes.
"If the policies do not please them or when their views are not accepted, they will oppose with violent, unlawful means," he pointed out. "This is not the right attitude. Even if they don't like it, they should respond peacefully, and accept that society cannot satisfy them all the time."
joseph@chinadailyhk.com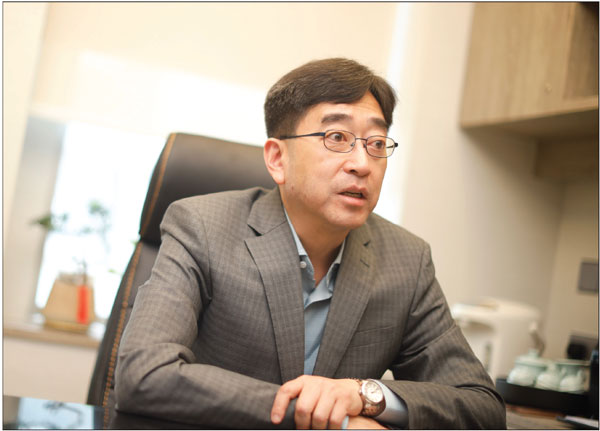 Former secretary for food and health Ko Wing-man suspected foreign intervention in the protests and violent attacks and he believes it's neither right nor acceptable for politicians and foreign government officials to harbor and justify the criminal acts of the assailants. Roy Liu / China Daily
(HK Edition 07/08/2019 page4)