Neutrality rule forbids civil servants taking part in public protests in HK
Updated: 2019-07-31 07:27
By Tony Kwok(HK Edition)
<!–enpproperty 2019-07-31 07:27:04.0Tony Kwok
Neutrality rule forbids civil servants taking part in public protests in HK11022442Comment HK2@hk/enpproperty–>
Tony Kwok reminds us that civil servants in HK were far more restricted politically under British rule, but today they are blatantly abusing their freedoms
During the British colonial era in Hong Kong, all civil servants were subject to political vetting by the Special Branch (SB) of the then Royal Hong Kong Police, before being employed. It was rumored at the time that a potential teacher lost his chance to teach in a government school simply because he was found under surveillance to have been shopping in Yue Hwa Chinese Products Emporium, a mainland-owned department store! I believe there is some truth in the rumor because the political vetting was particularly stringent on teachers, police and administrative officers. This only reflected the foresight of the colonial government in paying special attention to teachers. Unlike the loose attitude of the SAR government, our teachers are the single and most damning reason for the recent disturbances caused mainly by our young people, who have been subject to anti-communist brainwashing! Just watch the video on the recent demonstration at the airport. It is repugnant to see a primary school boy standing up and leading the crowd in chanting "Hong Kong is not China"!
At that time, the colonial and civil service regulations specifically prohibited any civil servant from speaking to the media, unless they got special permission to do so. Any civil servant found to be divulging government's restricted information, let alone those classified as confidential or secret category, were liable to prosecution under the Official Secrets Acts. Civil servants were not allowed to visit the mainland or Taiwan without permission. Such were the draconian measures taken by the colonial government to ensure civil servants should be apolitical, or biased in their allegiance to Britain.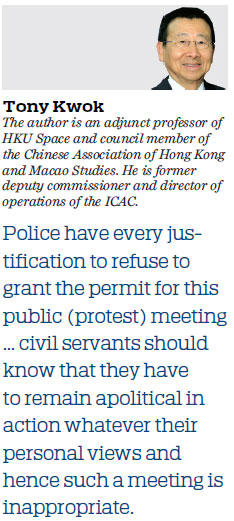 It would be unthinkable for the colonial government if a group of civil servants dared to stage a public protest meeting to criticize the government. But this is now happening in Hong Kong. According to social media, two serving civil servants are planning a public protest demonstration at Chater Garden on Friday 7-9 pm to protest against the government's handling of the now-suspended fugitive rendition bill.
It was revealed on social media that one of the organizers was an activist involved in the 2012 public protest against the inclusion of national education in the school curriculum, in his then capacity as vice-president of the Student Union of the Chinese University of Hong Kong. Imagine if this had taken place under British colonial rule, he would very likely be unceremoniously arrested by SB officers forthwith and detained in the SB detention center in Mount Davis for interrogation for an indefinite period, and possibly deported in the end without any judicial process.
In my view, police have every justification to refuse to grant the permit for this public meeting. Firstly, civil servants should know that they have to remain apolitical in action whatever their personal views and hence such a meeting is inappropriate. Secondly, all these so-called peaceful demonstrations and assemblies organized by the opposition camp have ended up in violence and riots. Civil servants should realize their primary responsibility is to maintain peace and prosperity in Hong Kong, and avoid stirring up controversy or movements which could be hijacked by demagogues with ulterior motives. Any passionate mass movement is always just a breath away from hysteria, violence and riots. Clearly the organizers are extremely irresponsible; they should be considered for disciplinary action.
However, in the current political climate and the opposition's lack of respect for the rule of law, there is a real possibility the public protest would go ahead even without a police permit. Since there is no quick way to distinguish whether the participants are civil servants or otherwise, it is highly likely that the protest meeting would be hijacked by the opposition and the usual rabble-rousers.
But we also need to maintain the morale of civil servants and not to give them the impression that they forfeit their freedom of expression when they join the civil service. I therefore propose that all government department heads should conduct urgent meetings with their staff representatives before Friday. There are three objectives, firstly to explain properly the government position on the whole saga. This includes the genuine rationale – sadly misunderstood by most of the public, thanks to a biased media – for the fugitive rendition bill, and to clarify the government response to the five demands of the protesters. Secondly, they should emphasize that such staff meetings are the proper forum for civil servants to express their views. The management would undertake to convey their views to our political leaders and the central government. Thirdly to reiterate the fact that civil servants should remain apolitical as required under their terms of employment. Hence they would be in blatant contravention of their contract if they were to attend such a public protest meeting. In particular if permit is not granted, they could be liable to prosecution for illegal assembly. They would also be held responsible for any public speeches they make which would constitute a violation of the civil service neutrality principle.
At the same time, the chief secretary should issue a strongly worded reminder to all civil servants reiterating the above key points.
Having said that, there may actually be some merit in letting a public protest go ahead, as an old Chinese proverb says: "Induce snakes to come out of their holes". Efforts should be made to identify those civil servants who are present, and even if they are not prosecuted, they should rightly be blacklisted in their respective government departments. They should not be allowed any access to any confidential or secret information. The reason is that they can no longer be trusted. There is every likelihood that they could divulge confidential government information to unauthorized people or the media, because they have shown themselves to be a security risk. At best they would be left to do routine work and there would be no way for them to advance their government careers.
Civil servants who play by the book should now focus on development and livelihood issues, as suggested by Yang Guang, the spokesperson of the State Council's Hong Kong and Macao Affairs Office, in his press briefing on Monday in Beijing.
(HK Edition 07/31/2019 page8)