Police associations speak up to defend officers' reputations
Updated: 2019-07-09 07:58
By Joseph Li in Hong Kong(HK Edition)
<!–enpproperty 2019-07-09 07:58:40.0Joseph Li in Hong Kong
Police associations speak up to defend officers' reputations11023981Hong Kong2@hk/enpproperty–>
Police officers, like other civil servants, are politically neutral and will stay away from politics. But if and when their reputations are at risk or they are being misunderstood, they will not hesitate to speak out and hit back, Chairman of the Hong Kong Police Force's Superintendents' Association Ronny Chan Man-tak said on Monday.
The four staff associations of the Hong Kong Police Force recently sent a joint letter to a member of the British Parliament who accused Hong Kong police officers of brutality in their handling of the recent protests. They also wrote to Hong Kong Education Secretary Kevin Yeung Yun-hung that requested action against a liberal studies teacher who posted anti-police sentiments and comments on social media.
In the letter to Helen Goodman, a Labour Party member of the British House of Commons, the Hong Kong police associations criticized her for naming at a Parliament meeting the Hong Kong police superintendent – a British citizen – who allegedly ordered the use of tear gas against protesters in recent demonstrations. She further said that two other British superintendents were the most senior officers on site handling the protest.
In the opinion of the Hong Kong police officers, Goodman encouraged a doxxing campaign – an effort to leak police officers' personal information and cyberstalk them – against the superintendent whom she named. That made the superintendent and the two other expatriate officers vulnerable to vitriolic cyberattacks and physical threats to their families.
"Her behavior is unacceptable and unethical," Chan said.
The letter further criticized her for willfully turning a blind eye to truth or reading false reports about what is happening in Hong Kong. As a result, she owes the superintendent and the Hong Kong Police Force an apology, the letter said.
Neil Taylor, chairman of the Overseas Inspectors' Association, said the superintendent who was named has elderly parents living in the UK, and this incident must have caused them significant stress.
The police associations also wrote to the Education Bureau complaining about Colin Lai Tak-chung, a secondary-school liberal studies teacher who the associations say defamed the police force by posting "black or triad forces and their whole families should die" on his homepage. Lai was chairman of the liberal studies committee of the Hong Kong Examinations and Assessment Authority until he resigned after he posted the anti-police sentiments.
The associations sent the letter to Education Secretary Yeung before Lai resigned from all his official positions. The purpose of the complaint was to inform the government that the behavior of people with such hatred, especially a teacher for liberal studies, is inappropriate, and the government should consider removing him from all official positions, Chan said.
joseph@chinadailyhk.com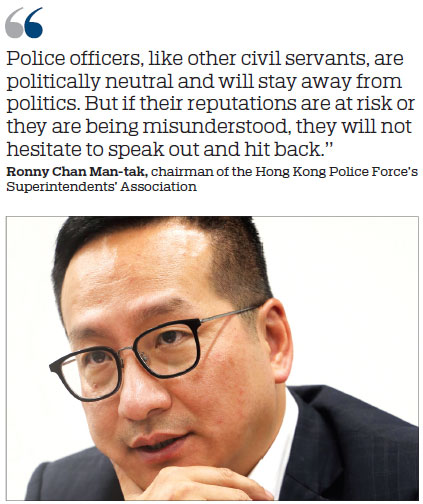 (HK Edition 07/09/2019 page4)