'Smart tourism' the next big step
Updated: 2019-10-16 08:13
By Luo Weiteng in Macao(HK Edition)
<!–enpproperty 2019-10-16 08:13:29.0Luo Weiteng in Macao
'Smart tourism' the next big step11022444Macao2@hk/enpproperty–>
Technology to reshape industry, ultimately offering 'tailor-made experiences' for visitors
As smart technologies never stop advancing with smart cities in the making, the next evolutionary step points to smart tourism that's poised to redefine the traditional tourism sector. Concerted efforts are needed to get the new concept off the ground, industry leaders and experts told the China Daily Asia Leadership Roundtable in Macao on Tuesday.
Speaking at the panel themed "Greater Bay Area Tourism Development: An Integrated Approach for Well-being", held as part and parcel of the Global Tourism Economy Forum's eighth session this year, Maria Helena de Senna Fernandes, director of the Macao Government Tourism Office, said Macao focuses its efforts on promoting "smart tourism", bolstering its ambition to become a tourist magnet.
"Decades ago, tourists relied on travel agencies to book a package holiday, largely because the internet was not well-developed at that time and visitors were unfamiliar with the outside world," said Daniel Fong, director of Macao-headquartered Nam Kwong (Group) Co and chairman of the board of China Travel Service (Macao).
"As holidaymakers become used to putting together their own holidays and not using travel agents, how to satisfy the ever-changing demands of visitors stands as a real issue for the tourism industry as a whole," Fong noted.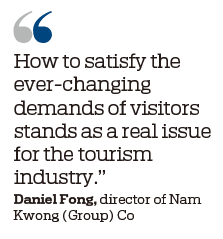 Last year, Macao received more than 35 million visitors. This year, total visitor arrivals are expected to reach 40 million, said Senna Fernandes.
"Rather than simply boosting the number of tourists, what Macao really needs is to facilitate the structural changes to its fast-growing tourism business and create a rich, technology-based, smart tourism experience for visitors," she reckoned.
Technology and innovation – the underlying elements that can essentially turn the new concept of "smart tourism" into reality – will play an increasingly significant role in reshaping the future of tourism, said Jia Jiaya, professor of the department of computer science and engineering at the Chinese University of Hong Kong.
"Over the next five to 10 years, technology is poised to be a major driving force for the tourism sector," said Jia, who is also a distinguished scientist and director of Tencent Youtu Lab.
Citing the cutting-edge artificial intelligence technology as an example, Jia said tour recommendation and route planning can be realized in a smarter manner. The ultimate goal is to offer tailor-made experience for visitors.
Moreover, the much-discussed autonomous driving technology could be applied to design the special routes in tourist attractions.
Macao is already a step ahead in testing the potentials of technology and smart tourism by way of closer cooperation with the Chinese mainland. In 2017, the Macao SAR government signed an agreement with tech giant Alibaba to press ahead with its smart city visions, with smart tourism being one of the four major focuses. The city's partners range from Alibaba Cloud and Baidu to Ctrip and Tongcheng elong.
As the Guangdong-Hong Kong-Macao Greater Bay Area mega plan reinforces the theme of regional collaboration, Senna Fernandes is betting big on more concerted efforts across the region to polish the bay area's brand as a smart tourism destination.
While smart tourism may be a rather macro concept, sports tourism highlights a niche market that spells potentially huge opportunities for those with the foresight to jump on the bandwagon, said Peter Lyu, executive director and general manager of Zhuhai-based Huafa Sports Operations Management Co.
"The Beijing 2008 Olympic Games makes a perfect example of how sports tourism can not only spur a country's sports and tourism economy, but also boost its national image," Lyu recalled.
As the marathon craze catches on in China, nearly 1,500 marathon races were held in the country last year, underscoring the golden opportunities from a yet-to-be-tapped tourism market.
Regional collaboration should also be focused on this field. In the near future, Lyu hoped the marathon race can also be held on the spectacular Hong Kong-Macao-Zhuhai Bridge to create a unique sports tourism attraction by allocating the abundant regionwide tourism resources in a smarter way.
sophia@chinadailyhk.com
Panelists envision the role ever-advancing technology can play in reshaping the tourism sector at a session themed "Greater Bay Area Tourism Development: An Integrated Approach for Well-being" during the Global Tourism Economy Forum on Tuesday. China Daily 
(HK Edition 10/16/2019 page5)