Stay tuned to the nation's developments, youths told
Updated: 2019-07-29 07:38
By Staff Writer in Hong Kong(HK Edition)
<!–enpproperty 2019-07-29 07:38:34.0Staff Writer in Hong Kong
Stay tuned to the nation's developments, youths told11023981Hong Kong2@hk/enpproperty–>
Hong Kong police said on Sunday they will make a concerted effort to bring to justice the radical protesters who hurled bricks, iron pipes and bottles filled with corrosive liquids as they rushed a police cordon in Yuen Long on Saturday.
So far, 13 people have been arrested on charges related to the seven-hour standoff, including unlawful assembly, possession of offensive weapons, assaulting police officers, and destruction of public property. The confrontation injured 24 people, including four police officers.
The government said in a statement on Sunday it strongly condemns the violence in the western New Territories district, saying police will take "serious follow-up action".
The police also condemned the deliberate attacks on police officers on duty by radical protesters, stressing they will launch an investigation into the incident to identify and arrest the offenders.
Also condemning the violence were 39 Hong Kong lawmakers from the pro-establishment camp. In a joint statement on Sunday, they expressed "strong disapproval" of the riot, reiterating that they oppose all violent and illegal acts.
Stanley Ng Chau-pei, a Hong Kong deputy to the National People's Congress, the country's top legislature, said the illegal rally in Yuen Long and the escalating violence during recent protests showed radical protesters' defiance of the city's rule of law and attempts to jeopardize the city's status as an international financial center. He said he hopes police can bring the lawbreakers to justice as soon as possible.
Ng, who is also the president of the Hong Kong Federation of Trade Unions, the city's largest labor group, called on Hong Kong people to avoid attending unlawful rallies or resorting to violence to achieve political goals.
Hong Kong Financial Secretary Paul Chan Mo-po wrote in his weekly blog that the violent protests in recent weeks have greatly worried those people who really care about Hong Kong. He called on the public to stand firmly against any violence. "Don't let hate and violence take root and spread in society," he said.
Saturday's mass protest was also condemned by Yuen Long residents and shop owners, who said the violence severely disrupted their daily lives and adversely affected their businesses.
Banks, blood-donation stations and other public facilities had to suspend services or close early on Saturday. Most shops in the area also shut their doors by early afternoon.
A local resident surnamed Chan who has lived all his life in Yuen Long said the protesters launched the campaign to "wreck the town", and not to peacefully express their opinions.
Some workers at nearby shops told China Daily they were frightened by the commotion and are worried if business could ever return to normal after such a traumatic shock to the town and its people.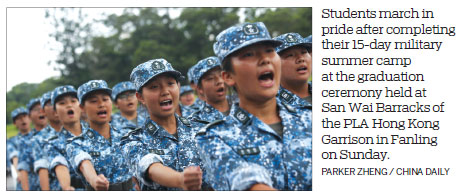 (HK Edition 07/29/2019 page4)