<!–enpproperty 2019-07-08 08:01:29.0
The rule of law must prevail in HKSAR
11022442Comment HK2@hk/enpproperty–>
Chan Tak-leung says in order to uphold the rule of law in HK, it's vital that those arrested should be prosecuted for their criminal acts
The storming and occupation of Hong Kong's Legislative Council Complex made headlines around the world, but it was upsetting and unpleasant reading. The New York Times headline read "Hong Kong protesters storm legislature" while Britain's Telegraph blared "Hong Kong riot police fired tear gas at protesters after they storm legislature on anniversary of handover to China".
The European Union's high representative for foreign affairs and security called for "restraint and dialogue to find a way forward" as hundreds of Hong Kong protesters smashed up the legislature.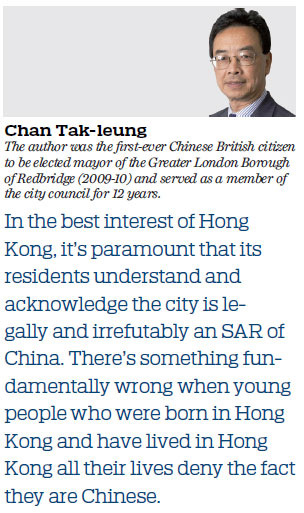 One appreciates that protesters who went on to smash up the legislature certainly did not represent the vast majority of peaceful demonstrators. However, it was patently clear there were others who were there not simply to "protest", but came prepared with hard hats, goggles, masks and cling films in their arms with only one aim – confrontation with intent to invade the LegCo Complex. They were looking for confrontation and succeeded in causing massive criminal damage to the complex through wanton vandalism.
It was most unfortunate that the world's media and politicians have refused to acknowledge that the invasion of the complex was a riotous act and not simply a protest demonstration. In order to uphold the rule of law in Hong Kong, it's vital that those arrested should be prosecuted for their criminal acts as they were definitely not there just to protest, but to perpetrate unlawful activities.
The use of force to invade and occupy the complex was unlike that directed in central London at the Extinction Rebellion group's climate change protesters, who adopted a non-violent civil disobedience approach in April to promote their cause.
Despite the peaceful, yet disruptive nature of the protest, more than 1,000 people were arrested as a result.
The 1963 March on Washington organized by the late US civil rights leader and Nobel Peace Prize laureate Martin Luther King Jr, on the other hand, was an exemplary example of peaceful protest with 300,000 people taking part, and resulted in changes to racial policies and legislation without resorting to the use of paraphernalia as those used by the rioters in smashing their way into Hong Kong's LegCo building.
US Secretary of State Mike Pompeo, at a meeting with a "pro-democracy" delegation from Hong Kong, expressed concern over the extradition bill, claiming it might threaten the special administrative region's rule of law. His visitors, on this occasion, might or might not be aware of the fact that Hong Kong has had an extradition agreement with the US since 1998, and there are still 29 states in the US which still practice capital punishment. One can hardly wait for protesters to lobby or, better still, exercise their "democratic rights" by invading the US consulate in Hong Kong and see whether consulate staff will welcome them with open arms to its premises.
The secretary of state, obviously, believed that his comments would be pleasing to the ears of his visitors. However, he has made the fundamental error of ignoring the historical fact that, since 1997 and under the "one country, two systems" framework, Hong Kong is an SAR of China, and the fact that it's a contravention of international laws for a foreign government to interfere in the affairs of another sovereign state.
One's advice to Pompeo would be to shut up, adding "Thanks, but no thanks".
Jeremy Hunt, the UK's foreign secretary and a candidate in the race to be the next UK prime minister, on the other hand, said in Parliament he had urged Hong Kong's chief executive to launch a "robust independent investigation" into violent scenes during earlier demonstrations. He also threatened Hong Kong with the withdrawal of further export licenses for crowd control equipment to the Hong Kong police unless the UK is "satisfied that concerns raised about human rights and fundamental freedoms have been thoroughly addressed".
Britain might be a joint signatory to the Joint Declaration in 1997, but Hong Kong has been, legally, an SAR of China since 1997. To him, one would say: Mind your own business.
In the best interest of Hong Kong, it's paramount that its residents understand and acknowledge the city is legally and irrefutably an SAR of China. There's something fundamentally wrong when young people who were born in Hong Kong and have lived in Hong Kong all their lives deny the fact they are Chinese. It's equally preposterous for others to equate further democracy to creating an independent status for Hong Kong. For the sake of argument, will Hong Kong really be any better off becoming independent, but no longer secure with its food and water supply, and the protection of a superpower that is gaining influence by the day and which grants the city special favorable treatments that no vassal state in history could have ever dreamed of? Let's be realistic!
(HK Edition 07/08/2019 page10)