'Trophy buildings' lose shine as tenants pull out
Updated: 2019-10-31 07:15
By Luo Weiteng in Hong Kong(HK Edition)
<!–enpproperty 2019-10-31 07:15:22.0Luo Weiteng in Hong Kong
'Trophy buildings' lose shine as tenants pull out1159929Hong Kong2@hk/enpproperty–>
Vacancy rates in HK's top-notch commercial buildings in dramatic upclimb as social turmoil, trade row bite
With Hong Kong's social unrest approaching its fifth straight month, and the lingering Sino-US trade spat, the local prime-office market is feeling the pinch as more firms move out of the city center to outer suburbs in search of cheaper accommodation.
Hong Kong-based Dah Sing Bank joined the exodus in the third quarter of the year, agreeing to take up a 76,000-square-foot (7,060 square-meter) floor at Sunlight Tower on Queen's Road East in Wan Chai at a monthly rental of HK$3.42 million ($436,201).
The reported lease deal would mean the 72-year-old bank, which has 70 branches in Hong Kong, Macao and on the Chinese mainland, will be paying roughly 50 percent less than what it's paying for at its years-long location at Everbright Centre on Gloucester Road.
Central district rents drop
Grade-A office rents in Wan Chai and Causeway Bay – home to the city's third-tallest tower, the 78-story Central Plaza – dropped by 1.6 percent in the third quarter, marking their first rental decline since 2014, according to real-estate consultancy Savills.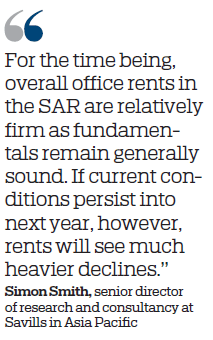 Office rents in Central district – already the world's most expensive – led the dive with a 3.2-percent fall in the three months ended in September. It was the steepest quarterly decline since 2012. The mounting downward pressure has pushed the prime-office vacancy rate up in this area to 7.4 percent – the highest level in 14 years – data from real-estate consultancy Cushman & Wakefield showed.
"Basically, the escalating trade tensions between the world's two largest economies and the drawn-out protests in the city come as a big push for the so-called 'decentralization', where companies are relocating their offices from the 'trophy buildings' in core districts, particularly from Central to other places, to bring down costs," said John Siu, Cushman & Wakefield's managing director for Hong Kong.
In the third quarter of this year, new office lettings, which were mainly focused on non-core areas, by and large, came from transactions that had been negotiated before July.
As the protests show no signs of abating, research houses see no light at the end of the tunnel for local commercial office owners. Cushman & Wakefield, in its latest report, said it expects office rents in Central to plummet by up to 8 percent next year. Morgan Stanley is even more pessimistic, anticipating average office rents in Hong Kong to tumble by as much as 10 percent in the next 12 months.
Besides Dah Sing Bank, WPP – the world's largest advertising conglomerate – and the UK-based parent company of Ogilvy & Mather, Young & Rubicam and JWT, have consolidated its local offices once dispersed in different office buildings, including the 73-story Center – Hong Kong's fifth-tallest skyscraper – in Wan Chai, and migrated to K11 Atelier on King's Road in the Island East district in the third quarter.
Desperate office owners are trying to lure tenants back with more rental discounts. The owner of an upper-floor office unit at Bank of America Tower in Admiralty, Central, was reported to quote HK$58 per square foot – more than 30 percent lower than the market average and hitting a record low in more than three years for the landmark highrise.
Wait-and-see attitude
As market sentiment turns sour, many tenants have been adopting a wait-and-see attitude and put their expansion or relocation plans on the back burner, said Keith Hemshall, Hong Kong-based executive director and head of office services at Cushman & Wakefield.
Chinese mainland enterprises are believed to have been the major driving force for office demand in Hong Kong in recent years. "But, suddenly, the prospect for this tenant group has dimmed," said Simon Smith, senior director of research and consultancy at Savills for Asia Pacific.
"On a positive note, mainland companies remain committed to Hong Kong even if some multinationals may be weighing up other regional alternatives," he reckoned.
However, airport disruption and growing concerns for physical safety have helped mute corporate activity levels. As senior staff are now reluctant to visit Hong Kong, this can paralyze the decision-making process and the ability of firms to make lease commitments. "Although leases are slated to expire next year, most tenants tend to wait and see before agreeing to negotiate," said Smith.
Multinationals share similar business continuity concerns, if not more, than their mainland counterparts. According to Smith, some of them may vote with their feet in shifting to other regional centers, with Singapore as a "clear favorite".
However, disadvantages, such as longer flights to the Chinese mainland, the fact that overall operational costs remain high, and a lack of suitable available office stock in Singapore, make it no easy task to say farewell to Hong Kong, he added.
"For the time being, overall office rents in the SAR are relatively firm as fundamentals remain generally sound. If current conditions persist into next year, however, rents will see much heavier declines," Smith warned.
sophia@chinadailyhk.com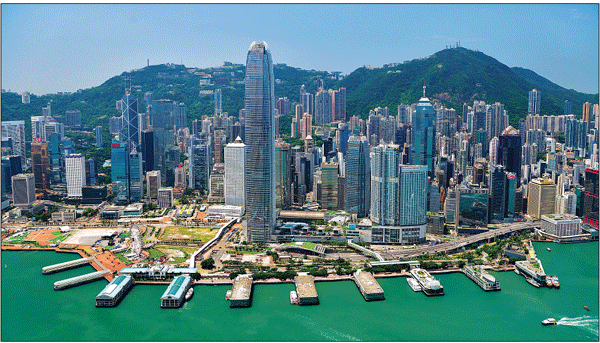 Top-grade commercial skyscrapers dot the skyline in Hong Kong's Central district – the world's priciest office location. Provided to China Daily
(HK Edition 10/31/2019 page5)