UK, Canada urged to stop interfering
Updated: 2019-06-01 05:42
By Kathy Zhang in Hong Kong(HK Edition)
<!–enpproperty 2019-06-01 05:42:21.0Kathy Zhang in Hong Kong
UK, Canada urged to stop interfering11023981Hong Kong2@hk/enpproperty–>
No other countries, organizations, individuals have the right to intervene in Hong Kong affairs: Foreign Ministry
The nation's Ministry of Foreign Affairs urged foreign countries on Friday to stop interfering in Hong Kong affairs and respect the special administrative region's extradition legislation.
Ministry spokesman Geng Shuang was responding to a question about a joint statement issued the day before by the United Kingdom and Canada, in which the two countries expressed "concerns" about the potential effect of the proposed amendments to Hong Kong's extradition law on their citizens in Hong Kong, on business confidence, and on the city's international reputation.
Speaking at the ministry's daily news conference in Beijing, Geng reiterated that no other countries, organizations and individuals have the right to intervene in Hong Kong issues as they are China's internal affairs.
The central government fully supports the extradition law amendments as proposed by the Hong Kong Special Administrative Region government, Geng added.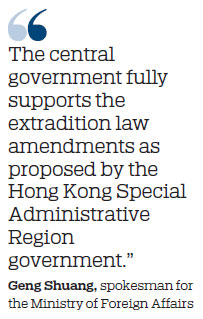 The amendments to the Hong Kong law aim to address a specific murder case, as well as to plug the city's legal loopholes, Geng said. The changes will prevent the city from becoming a "safe haven for fugitives", he said.
On the same day, the ministry's commissioner's office in Hong Kong voiced "strong dissatisfaction" and "firm opposition" to some foreign countries' constant interference in the SAR's legislative affairs.
The commissioner's office asked foreign countries to stop thwarting the HKSAR government's law-based governance, as well as to stop interfering in China's internal affairs regardless of the reason.
The office advised relevant countries to set aside their groundless worries and stop intimidating others for ulterior motives.
The fugitive law revision will not jeopardize the SAR's rule of law, the office said, adding that it will safeguard Hong Kong residents' rights and freedom.
The HKSAR government consulted various sectors and listened to suggestions on changes to the extradition law and made sufficient responses to public concerns, the office said.
The Hong Kong government announced on late Thursday revised proposals to amend the Fugitive Offenders Ordinance and Mutual Legal Assistance in Criminal Matters Ordinance, based on suggestions raised by business groups, political parties and other organizations.
The changes include raising the jail threshold for extraditable offenses and that any extradition request must be made through the top level of government in other jurisdictions.
kathyzhang@chinadailyhk.com
(HK Edition 06/01/2019 page4)