US farmers 'stand to lose' vital Chinese market
Updated: 2019-07-10 07:32
By Edith Lu in Hong Kong(HK Edition)
<!–enpproperty 2019-07-10 07:32:07.0Edith Lu in Hong Kong
US farmers 'stand to lose' vital Chinese market11022441Business HK2@hk/enpproperty–>
If the trade conflict launched by the United States continues, US farm produce will, undoubtedly, lose the Chinese market – one of the most important for the US – agricultural experts said on Tuesday.
Cao Derong – president of the China Chamber of Commerce of Import and Export of Foodstuffs, Native Produce and Animal By-Products (CFNA) – gave the warning at the two-day global economic forum "Sino-US Trade and Economic Relations: What Now, What Next" in Hong Kong.
He said the additional tariffs are already hurting and destroying the long-established, mutually beneficial and win-win situation for the world's two biggest economies.
As the world's largest agricultural exporter, the US was the biggest supplier of agricultural products to China from 1995 to 2016, and was also among the top four destinations for China's exported agricultural products.
According to China Customs data, the total trade volume between the two countries following the establishment of diplomatic relations in 1979 had soared from less than $2.5 billion to $633.5 billion last year – up 252 times.
However, the extra tariffs have stopped Chinese importers buying from US soybean farmers in the Midwest US.
China is currently the largest soybean importing nation, commanding 60 percent of the global market. But, its imports of US soybeans plummeted to 16.64 million tons in 2018 – dropping by nearly half compared to the previous year. The value of US soybeans imported dropped by 49 percent to $7.06 billion last year.
Furthermore, soybean stocks in the US had doubled to 26.96 million tons, hitting a historical high. Last year, 84 farmers went bankrupt in the Midwest – the most since the global financial crisis over a decade ago.
At present, both the futures price and the farm gate value of US soybeans are below costs, according to the American Soybean Association.
Besides soybean, China's imports of US walnuts, garlic and aquatic products have also declined.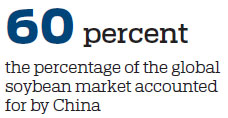 Cao said he has been in touch with the American Soybean Association, the US Grains Council and other organizations relating to nuts and legumes several times after the trade frictions began.
"They have told the US government they would like to see the dispute end as it has damaged and will continue to damage trade between the two countries," he said.
The CFNA had built up a long-term relationship with 11 US agricultural organizations, such as the American Soybean Association, and the governments of four agricultural states, including Illinois.
edithlu@chinadailyhk.com
(HK Edition 07/10/2019 page13)