<!–enpproperty 2019-10-18 07:54:56.0
View from the North1102244370 Years on HongKong2@hk/enpproperty–>
On the face of it, Hong Kong and the Nordics – an unofficial grouping of five Northern European nations – seem to have little in common. The 3.5 million square kilometers shared between Denmark, Finland, Iceland, Norway and Sweden, with a combined population of over 27 million, present very different living conditions from those in Hong Kong, where close to eight million people have just 1,100-sq-km space between them. Renowned for high taxes, progressive politics and state support, the Nordic nations appear the very antithesis of Hong Kong's entrepreneurial, laissez-faire economic approach.
Interestingly, this year's World Cultures Festival – a month-long, multi-genre spectacle comprising 15 events across the worlds of music, theatre, dance and beyond – opening tonight is focused on the Nordics.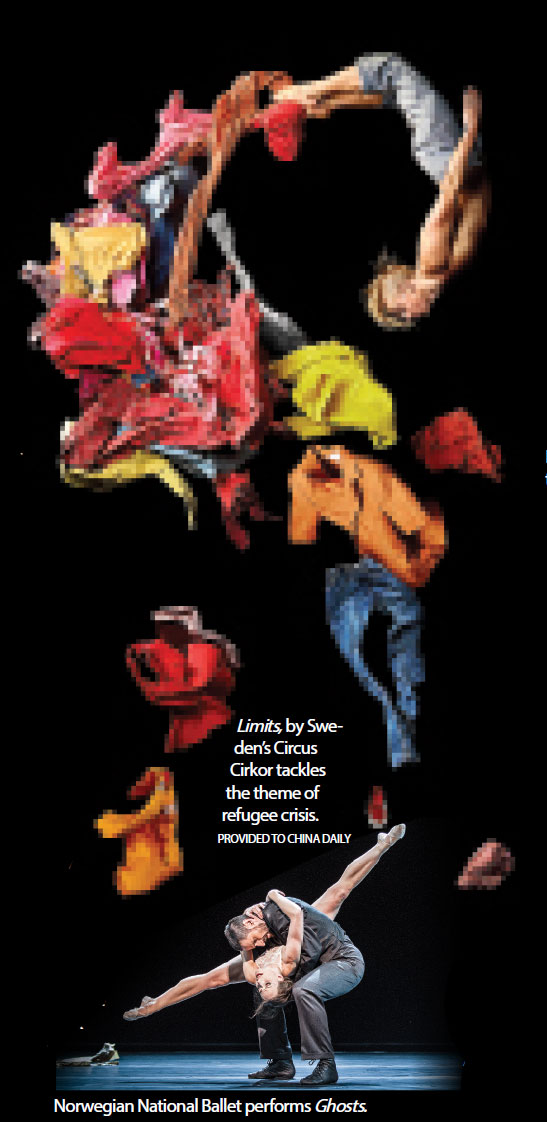 Founded in 2005 by the Leisure and Cultural Service Department (LCSD) and last staged in 2017 with Africa as its theme, the festival opens with a fittingly genre-blurring, decade-spanning, cross-continental collaboration: a new operatic adaptation of legendary Swedish filmmaker Ingmar Bergman's Autumn Sonata. Premiered at the Finnish National Opera in 2017, the production is backed locally by the Hong Kong Philharmonic.
"There are big differences between Nordic and Asian cultures in many ways, but through organizing festivals, we pull people together, create dialogue and network to communicate – to see, appreciate and learn from the differences," says Alex Cheung, senior manager at LCSD's Festivals Office.
And yet, for all the apparent differences, one can also detect a synergy between the mindsets and tastes of Hong Kong and the Nordics. There is a social reservedness and respect for etiquette and tradition; an appreciation for simple, utilitarian designs; and an embrace of kookiness and whimsy.
"Barely a day goes by when I don't see someone carrying a Marimekko bag on the MTR, or holding a phone in a Moomin case," says Sanna Kontinen, a 40-year-old Finnish resident of Hong Kong, in reference to the coveted clothing brand and beloved cartoon character Hong Kong people tend to bring up when she reveals her nationality.
Cheung hopes this shared aesthetic sensibility might be the basis of more profound cultural exchange. Inspired in part by the Nordic nations' progressive social policies, the festival's programing embraces an almost ambassadorial role, with several productions addressing stark realities facing our times – and what we can learn from them.
"The Nordic countries are frequently rated top in creativity, innovation, education, openness and equality, sustainability and environmental protection," Cheung says. "It will be tremendously interesting to take a closer look at their unique music, dance, drama and literature, which reflect their inclusive, people-oriented themes and focus on social issues."
Climate change
"It's hard to say what is Nordic," admits Kirsten Dehlholm, the 74-year-old founder and artistic director of Danish theater company, Hotel Pro Forma. "I would say the aesthetic is strict and simple, minimalistic."
Presented alongside the Latvian Radio Choir, on November 15-16 at Kwai Tsing Theatre, Hotel Pro Forma's NeoArctic is a direct response to the ecological emergency facing our planet, conceived as a song cycle with lyrics by frequent Bjork collaborator, Sjon.
"We hope the performance will make people think about the global climate changes ongoing today. They might think about what we all can do and what happens if we don't," says Dehlholm. "Art is just one of many different ways to awake attention to the climate matter, but made in the right way, it may go deeper and last longer. If it makes you wonder and be surprised, it is the very best."
Marginalized communities are also at the center of programing. Commissioned in 2017 by the Finnish National Theatre to celebrate 100 years of independence, Arctic Odyssey explores the cultural traditions of the indigenous Chukchi, Inuit and Sami peoples.
The refugee crisis of the past five years, which has divided European policymakers and fired ugly populist rhetoric across the continent, is tackled in an unlikely medium by Sweden's Cirkus Cirkor in Limits, presented at Sha Tin Town Hall on October 25-26.
"During the fall of 2015, I was one of many people in Sweden who tried to welcome (hundreds of) displaced people in a spirit of common humanity," says director and Cirkus Cirkor co-founder Tilde Bjorfors. "Every encounter (revealed) a new story, a personal tragedy. I became aware of limitations within myself and society. Contrary to what we often claim, our boundaries are supple. Both our hearts and our brains have an innate capacity for growth.
"It is shocking to watch how border after border is being closed when our circus has dedicated the last 20 years to pushing boundaries. The word 'circus' is often used disparagingly, but I think the opposite is true – the world should practice more circus."
Cirkus Cirkor, she stresses, is a contemporary circus company that's dramatic by nature, often with a narrative thread, and influenced by other art forms such as theater, dance, visual arts, music and street arts. "A contemporary circus stage can be anything from a classroom, a theater, a rock venue or a circus tent," adds Bjorfors. "Physical limits are tested, just as in traditional circus, but it creates transboundary art pieces using other art forms and expressions."
Traditional aesthetic – and athletic – boundaries will also be crossed in Breath, presented at Ko Shan Theatre New Wing on November 8-9. The production is an existential encounter between two fearless Finns: dancer/choreographer Tero Saarinen and accordionist Kimmo Pohjonen (who once performed alongside 10 wrestlers).
"On a conceptual level, one of the key messages of this creation is the importance of truly and openly confronting one another," says Saarinen. "Ultimately, to me, Breath is a study of the importance of communication and tolerance. And the often absurd and comic ways we instinctively try to shield ourselves; the ridiculous protective barriers we all as humans tend to put up, our mental boundaries, our privacy."
The production appears deeply intertwined with the pair's cultural upbringing, but like Dehlholm, both artists struggle to define Nordic art.
"I do not consider myself a particularly Nordic, or Finnish, artist, but naturally the landscape I am surrounded with – the sea, the forests, flora and fauna – is a source of inspiration," adds Saarinen. "I guess we Finns are also influenced by light, since we live in absence of it most of the year. (There is) polar darkness and then, suddenly in the summer, we have an overdose of (light) – a sun that never disappears. It's very dramatic, so it's natural it influences us."
(HK Edition 10/18/2019 page11)