Young artists aim to preserve Cantonese opera
Updated: 2019-06-29 06:53
By Chen Zimo in Hong Kong(HK Edition)
<!–enpproperty 2019-06-29 06:53:19.0Chen Zimo in Hong Kong
Young artists aim to preserve Cantonese opera11023981Hong Kong2@hk/enpproperty–>
Twenty-two years into its establishment as a special administrative region since its return to the country in 1997, Hong Kong has continued playing its part as a promoter of traditional Chinese culture. The recently commissioned Xiqu Centre, dedicated to Xiqu (Chinese opera) and nestled in Tsim Sha Tsui right next to the West Kowloon high-speed-rail station, is the latest embodiment of the city's fondness of this time-honored art form, and its commitment to make it thrive among younger generations.
Cantonese opera lover Ivy Fong Suet-ying, chairman and instructor of the Sing Fai Cantonese Opera Promotion Association, is concerned that Cantonese opera will be endangered in 10 to 20 years as its audience is dominated by the elderly, and the younger generation isn't interested in it.
Her association, aimed at promoting Cantonese opera among children and teenagers, with members from 4 to 18 years old, won fame in July 2018 after it performed at a renowned Chinese opera gala show as the representatives for Cantonese opera. The gala brought together opera performances from across the nation and was attended by numerous senior officials, including Hong Kong Chief Executive Carrie Lam Cheng Yuet-ngor; Zhang Xiaoming, director of the Hong Kong and Macao Affairs Office of the State Council; and Wang Zhimin, director of the Liaison Office of the Central People's Government in the HKSAR.

Fong was impressed by how well the performance was received by opera fans in Beijing, and realized that language and cultural differences won't prevent the audiences from appreciating art.
After the gala, the association gained lots of opportunities to perform on international stages, including the China International Import Expo in November.
Fong said the success shows that Cantonese opera is recognized as an important part of traditional Chinese culture and not confined to the country's Cantonese-speaking population – mostly in Guangdong province, Guangxi Zhuang autonomous region, and the Hong Kong and Macao SARs.
Cantonese opera has made remarkable progress in the past two decades, as the Hong Kong government and society have made great efforts to promote the renaissance of Cantonese opera.
Fong attributed it to Hong Kong people's growing sense of national identity since its return to the motherland. The Hong Kong public had taken the initiative to carry forward Chinese traditional culture, she added.
Meanwhile, the central and Hong Kong SAR governments, as well as social organizations, have also supported Hong Kong in boosting its distinctive local culture, including hosting national and international shows as display platforms for the Cantonese opera, and subsidized the performances through different cultural development fund.
This year also marks 10 years since UNESCO listed Cantonese opera as an "intangible cultural heritage" – the first for Hong Kong – after the central government submitted an application to UNESCO on request by the Hong Kong, Macao and Guangdong governments.
Cantonese opera was subsequently inscribed onto UNESCO's Representative List of Intangible Cultural Heritages of Humanity.
Aging audience
Preserving Cantonese opera is not without its challenges. During the last decade, the central and local governments, with support from the public, tried various ways to carry forward the tradition of Cantonese opera to a younger generation.
The young performers receives much encouragement, opportunities and responsibilities, with a bigger stage and more attention, Fong said.
"Cantonese opera helps me admire the beauty of traditional Chinese culture," said Li Man-chit, a 12-year-old Cantonese opera fan and member of the Sing Fai Cantonese Opera Promotion Association.
Li has played the lead role in quite a few classic plays, some of which were quite challenging, since his performance for President Xi Jinping during the president's inspection tour of the SAR in 2017.
Li said the performance also helped him understand the historical figures and heroes of classical literature.
Patrice Luk has partnered with Li in many plays. The 13-year-old said that she was attracted by the beautiful costumes and accessories in Cantonese opera performances, when she was 6 years old.
Despite the heavy homework load in her first year of middle school, Luk tried her best to make it to the rehearsal room every Saturday to learn Cantonese opera.
However, Fong said, Cantonese opera audiences have long remained elderly. She noted that even at a gala held by universities in Hong Kong, she could observe only a few young faces in the crowd.
She expressed concern that while Cantonese opera is performed almost every day in Hong Kong, such scenes may not last another decade.
Fong said that not only do young artists need to be trained in performing Cantonese opera, but that audiences also need to be educated to appreciate and understand the art.
She called on young people to give Cantonese opera a chance – to buy a ticket and visit the theater at least once – and to set aside stereotypes of Cantonese opera as old-fashioned or incomprehensible.
To make Cantonese opera friendlier for all audiences, Fong has also cut down the length of every "excerpt".
Each program in the show now only takes 10 minutes or less, so the audience will be able to hear more forms in one show. In an arrangement, 11 riffs from several most classic plays were presented within two and a half hours.
Traditionally, a full play could last about four hours. The audience might find it difficult to get home after such a long show ends in the late hours, Fong explained.
Fong also added English subtitles for every performance to help those who don't know Chinese follow the story.
Infrastructure boost
The government has also been investing in infrastructure toward the promotion of the arts. The Xiqu Center – the first major performance venue of the West Kowloon Cultural District – has prominently featured Cantonese opera as one of its highlights since it opened in January.
Addressing the opening ceremony, Carrie Lam said Hong Kong had made an artistic contribution to the development of Cantonese opera, with local theaters actively performing in a way that retained the essence of tradition while gradually adopting artistic skills of various art forms.
"The innovations of Cantonese opera in Hong Kong in terms of scripts, costumes, music, stage art and performance techniques have made it shine brilliantly," Lam said.
Yeung Kim-wah, a well-known Cantonese opera actor and director, has been invited to train young actors and actresses from the association who are determined to learn Cantonese opera.
Yeung adapted the Peking Opera play Farewell My Concubine into a Cantonese opera play for the young performers, telling the story of Xiang Yu, the self-professed "Hegemon-King of Western Chu" in the third century BC.
"I'm not a professional Cantonese opera performer myself," Fong said, but added that she hopes young amateur actors and actresses will have more opportunities to receive professional training and perform on the stage in today's modern society, and even become professional performers one day if they desire to.
It is also hoped that they will have audiences of their own age to support them in the theater, she said.
mollychen@chinadailyhk.com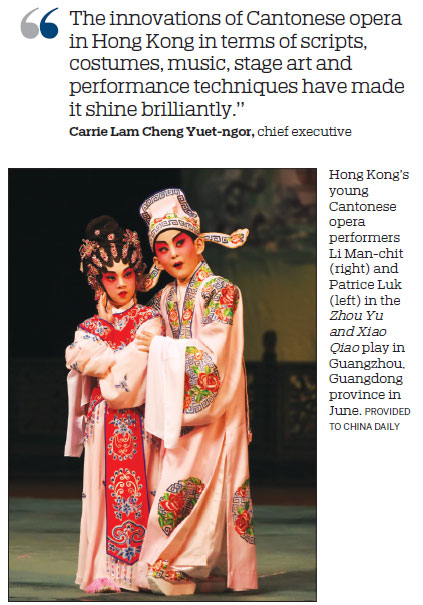 (HK Edition 06/29/2019 page2)